There are many shrines and temples in Tokyo.
I will introduce the shrines, temples I like.




Shrine in Tokyo
Oji shrine (JR · Tokyo Metro Namboku Line: Oji Station)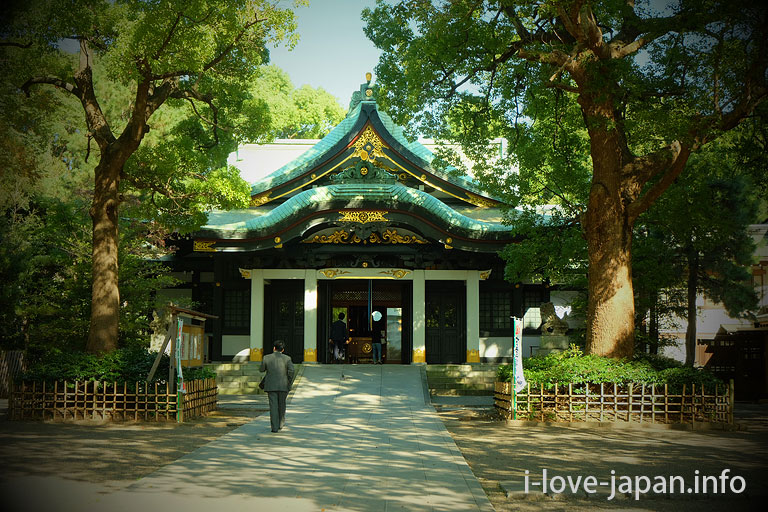 There is a rare "god of hair" in the precincts.
"Oji Inari shrine" in the neighborhood is known for "Fox Parade New Year's Eve", but you can enjoy it even if you visit on the usual day.
▼【More】Oji shrine
Oji Shrine(Kita-ku,Tokyo)
---
Oji-Inari-shrine (JR · Tokyo Metro Namboku Line: Oji Station)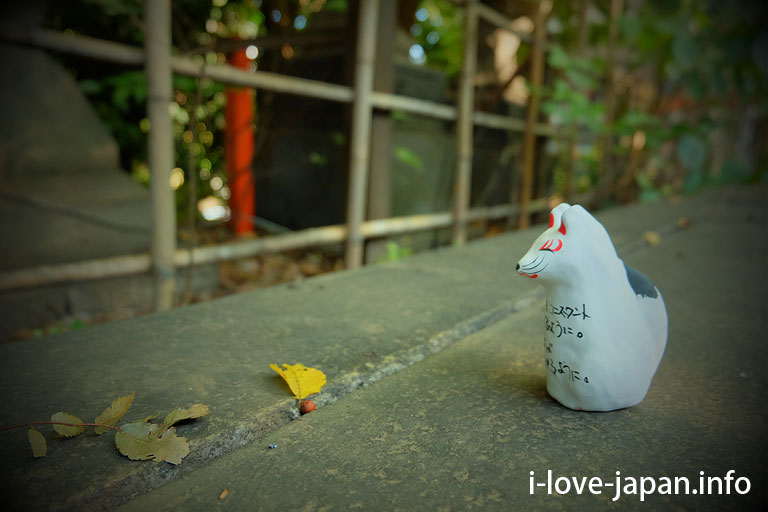 Oji-Inari-shrine has been "Leader of Inari shrine in Kanto", it seems that it has been popular with the common people since the Edo period.
There is a legend that the fox of the Kanto area gather under "Enoko" and arranges their dresses and worships the Oji Inari shrine on New Year's Eve.
▼【More】Oji-Inari-shrine
Wishing for "Mr. Fox and Mr. Stone" at Oji Inari shrine(Kita-ku,Tokyo)
---
Hakusan Shrine(Tokyo Metro Namboku Line: Hon Komagome Station)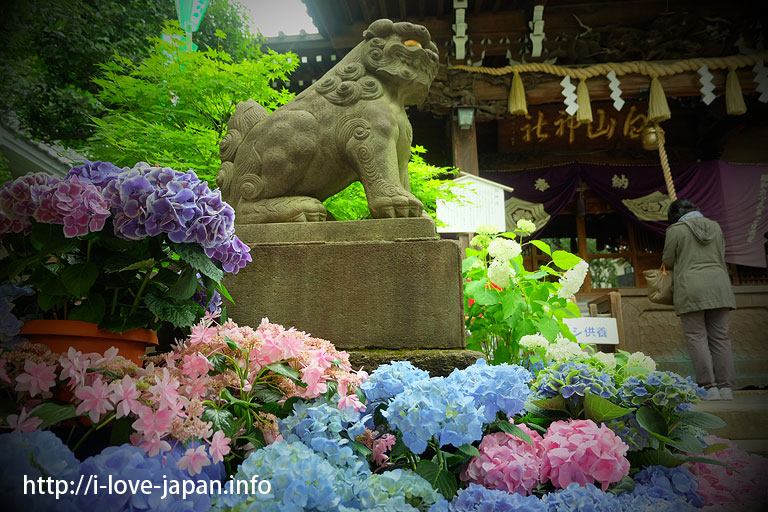 Hakusan Shrine is known as "hydrangea".
If you visit "hydrangea festival", you can climb Mini Fuji called "Fuji-duka".
▼【More】Hakusan Shrine
Hydrangea(Ajisai-flower) at Hakusan Shrine(Bunkyo-ku,Tokyo)
---
Nezu shrine(5 minutes on foot from Chiyoda Line: Nezu Station · Sendagi Station, Nanboku Line:Tokyo University Station)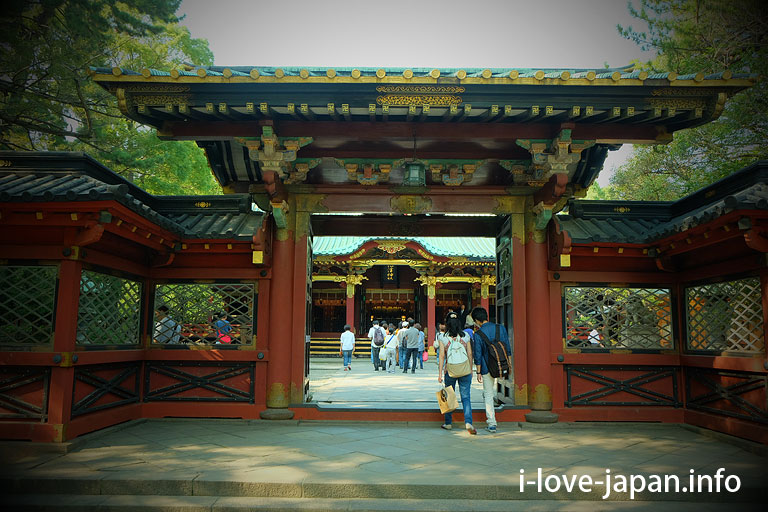 There are many Inari shrines with many red torii in Tokyo.
Among them, "Nezu shrine" is popular.
I was overwhelmed by not only the red torii but also the buildings designated as important cultural properties.
▼【More】Nezu shrine
Nezu shrine with many red toriis and plenty of important cultural assets (Bunkyo-ku, Tokyo)
---
Kanda Myojin Shrine(Chiyoda Line: Yushima Station / Chuo Line / Sobu Line: Ochanomizu Station)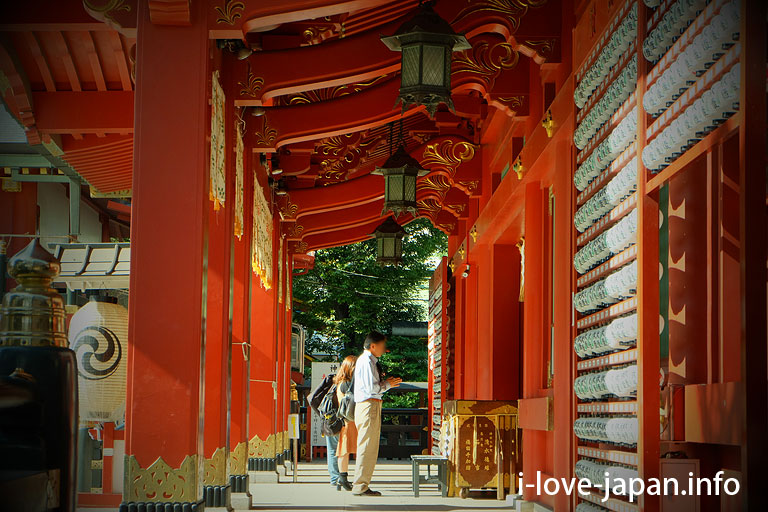 "Kanda Myojin Shrine" has a history of nearly 1,300 years, settled in Edo-Tokyo.
Even so, here is a downtown ,you do not have to get so formal.
Recently "collaboration with Love Live" are also drawing attention.
▼【More】Kanda Myojin Shrine
Kanda Myojin Shrine(Chiyoda-ku,Tokyo)
---
Kameido Tenjin Shrine(Sobu line: Kameido station)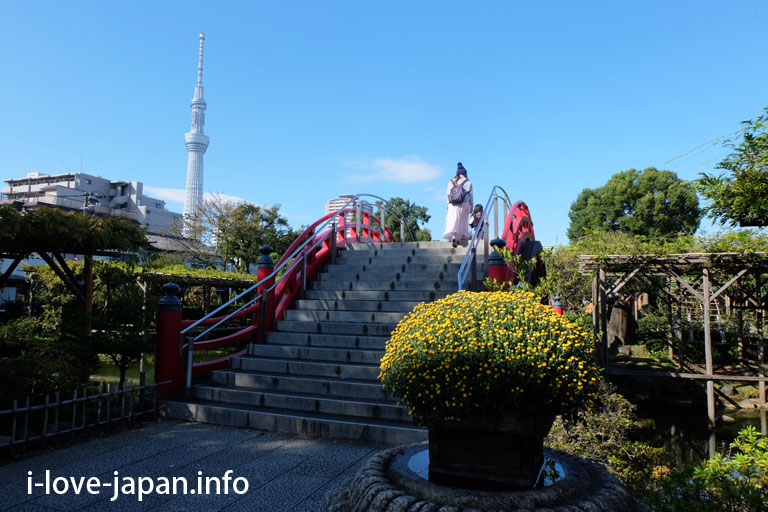 As you pass through the entrance torii, there is a Shinji-Pond and three bridges follow the Kyushu Dazaifu Tenmangu Shrine.
You can cross such a "Taiko Bridge" and take a two-shot of a traditional building and the Sky Tree.
Kameido Tenjin Shrine is famous for "plum" and "wisteria", so you may visit during that season.
---
Tomioka hachimangu Shrine(Oedo Line: Monzen Nakamachi station)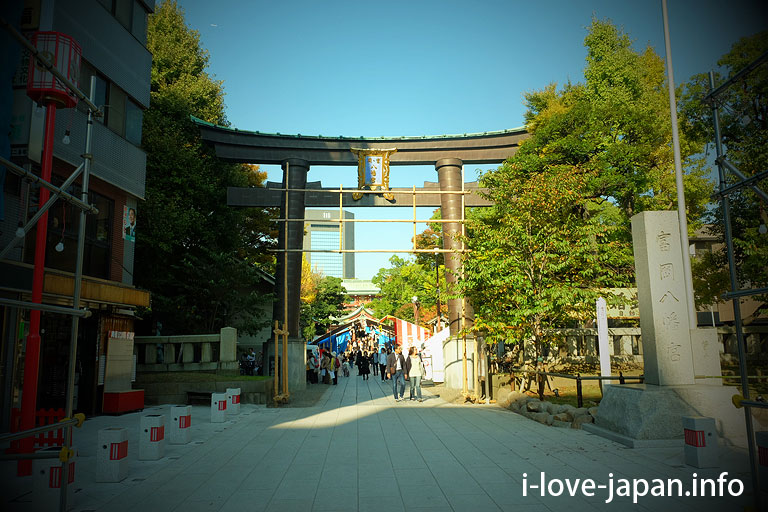 Narita-san Tokyo Betuin "Fukagawa Fudo" is nearby.
You can visit the shrine and the temple while thinking the differences and similarities.
▼【More】Tomioka hachimangu Shrine
Tomioka hachimangu(Shrine)+Fukagawa fudo(Temple)/Koutou-ku,Tokyo
---
Shiba Daijingu Shrine(Oedo Line: Daimon Station)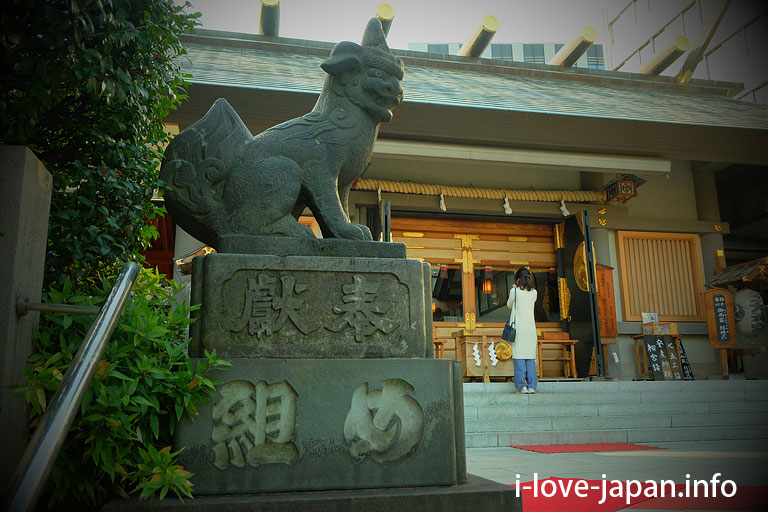 Shiba Daijingu Shrine is one of the leading shrines in Tokyo, which has a history of 1000 years.
In the Edo era, we gathered common people's faith in Kanto are, and received the reverence of many people as "Ise of Kanto".
It is a cozy shrine,So I recommend to visit with Zojoji temple.
▼【More】Shiba Daijingu Shrine
Shiba Daijingu Shrine and Zojoji Temple(Minato-ku,Tokyo)
---
Shinagawa shrine(Keikyu Main Line: Shinbanba Station)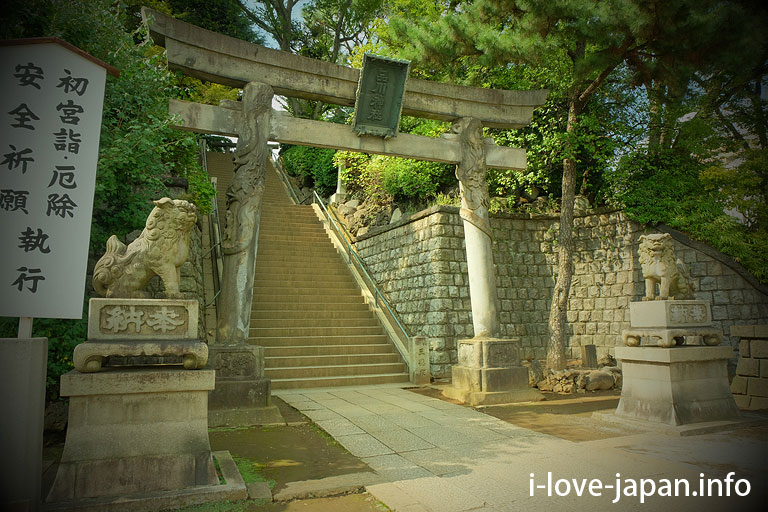 I love Shinagawa shrine(* ̄ー ̄*)
There is a lot of red torii in "Ana Inari shrine", there is "Shinagawa Fuji" that can climb all the time, Mt. Fuji is drawn on the foundation of Guardian dog, there are stone frogs.
A dragon staring at torii is splendid.
▼【More】Shinagawa shrine
Fuji climbing!? at Shinagawa shrine(Shinagawa-ku,Tokyo)
---
Akasaka Hikawa Jinja Shrine(Hibiya Line · Oedo Line: Roppongi Station)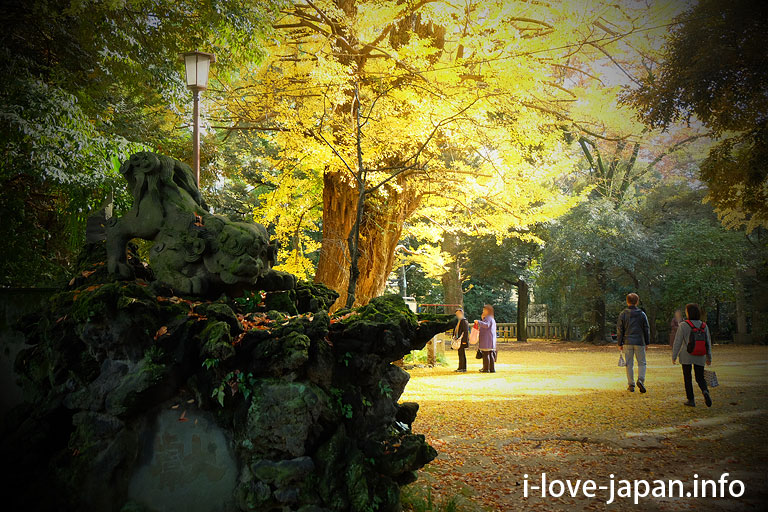 It is a shrine with many attractions such as some shrines in the precincts, guardian dogs, ginkgo of 400 years old.
I recommend the season of autumn leaves and ginkgo.
▼【More】Akasaka Hikawa Jinja Shrine
Akasaka Hikawa Jinja Shrine(Minato-ku,Tokyo)
---
Hie Shrine(Tokyo Metro Nanboku Line: Tameike Sanno Station)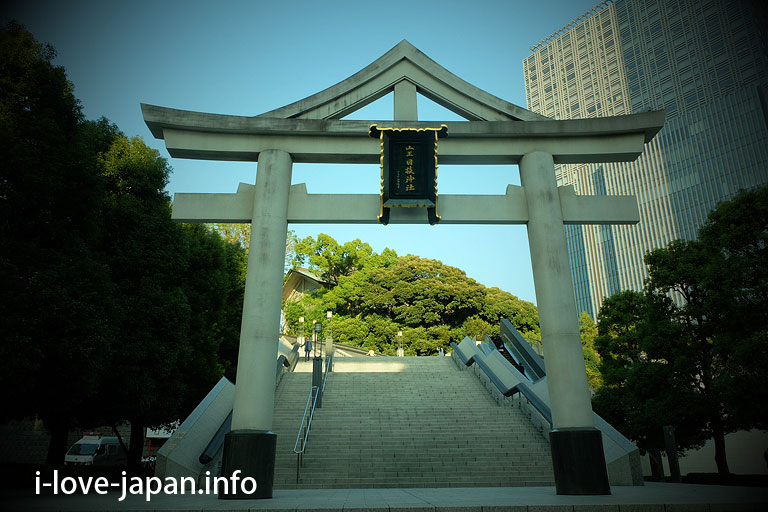 Hie Shrine has "Sanno torii".
The "Sanno torii" has the mountain on top of a typical torii.
"Monkeys(not real)" are here and there, and are shaking smile.
There are also "Inari shrines" where many red torii are lined up, so I recommended for red torii fans.
▼【More】Hie Shrine(Akasaka,Chiyoda-ku,Tokyo)Don't miss Snnou-torii gate,and many red torii gates
---
Anamori-Inari-Shrine(keikyu line:Anamori inari station)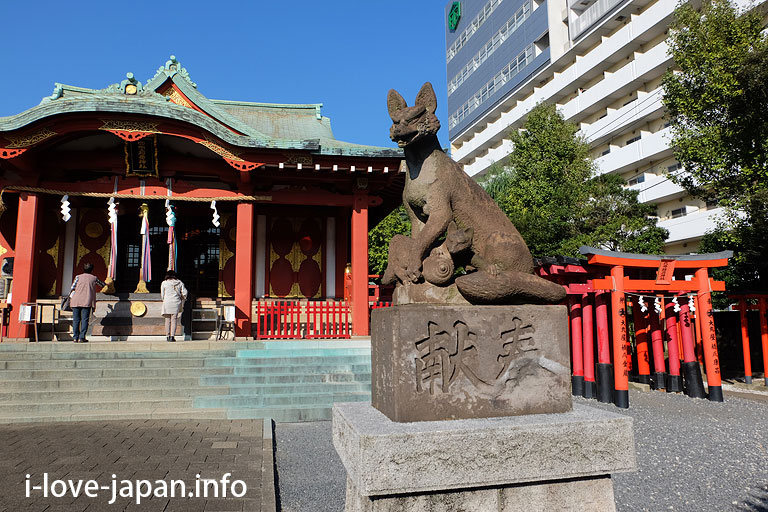 There "anamori inari shrine" is at "anamori inari station" two stops from "Haneda Airport International Terminal station"
There are a lot of foxes in the Inari shrine.
The number of fox of this shrine is amazing!!
▼【More】Anamori-Inari-Shrine
https://i-love-japan.info/?p=656
---
Higashifushimi-Inari-Shrine(Seibu Shinjuku Line "Higashi-fushimi,or Seibu-Yanagisawa station")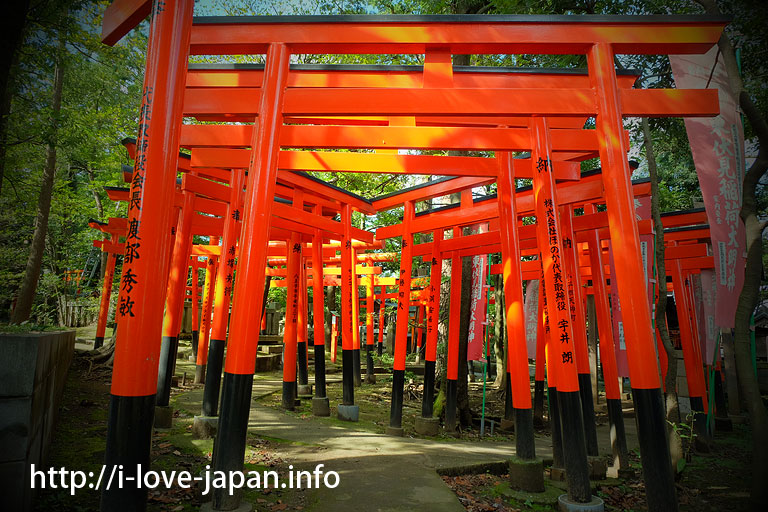 fushimi-inari-taisha shrine in Kyoto is known for "Senbon Torii/thousand Torii/千本鳥居".
The Inari religious believers in the Kanto region were eager to built "fushimi-inari-taisha shrine in Kyoto also in Tokyo!".
In cooperation with Kyoto fushimi-inari-taisha shrine, it was divided in 1929.
▼【More】Higashifushimi-Inari-Shrine
Worship "Otuka" at Higashifushimi-Inari-Shrine(Nishitokyo-shi, Tokyo)
---
Tanashi Shrine(Seibu Shinjuku Line:Tanashi Station)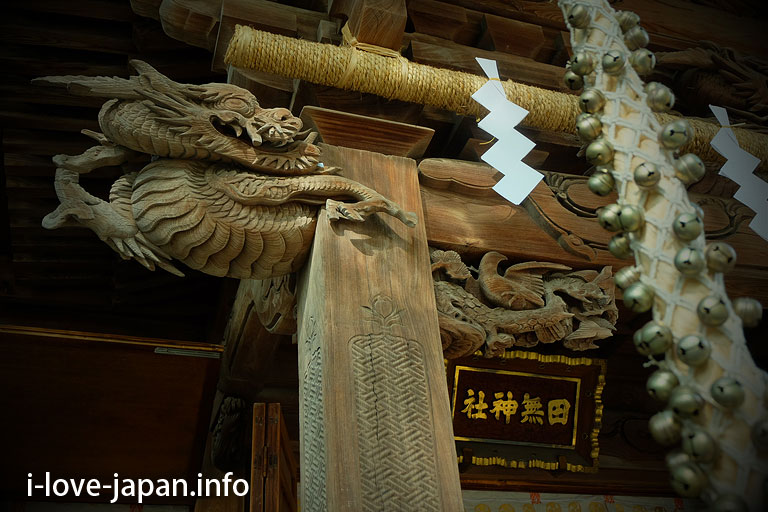 To Tanashi Shrine, it takes 40 minutes by train or bus from Shinjuku Station.
Apart from the city center, it is not a sightseeing spot.
But the sculpture is worth seeing.
▼【More】Tanashi Shrine
Must see Tanashi Shrine's sculpture(Nishi-Tokyo-shi,Tokyo)
---
Yasukuni Shrine(Subway:Kudanshita Station)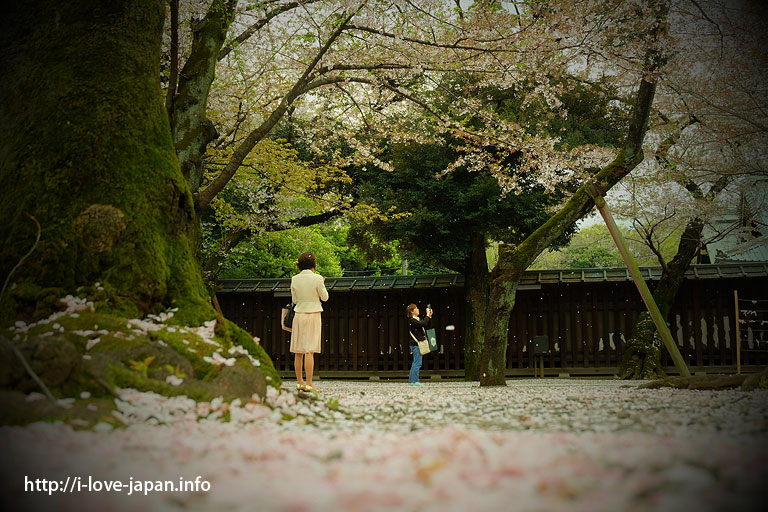 Yasukuni Shrine is a place that has a special meaning for the Japanese.
Because the soldiers who gave their lives for the country, are enshrined.
▼【More】Yasukuni Shrine
Yasukuni Shrine and Chidorigafuchi Cheery Blossom Sakura(Chiyoda-ku,Tokyo)
---
Temple in Tokyo
Zojoji Temple(Oed Line:Daimon Station)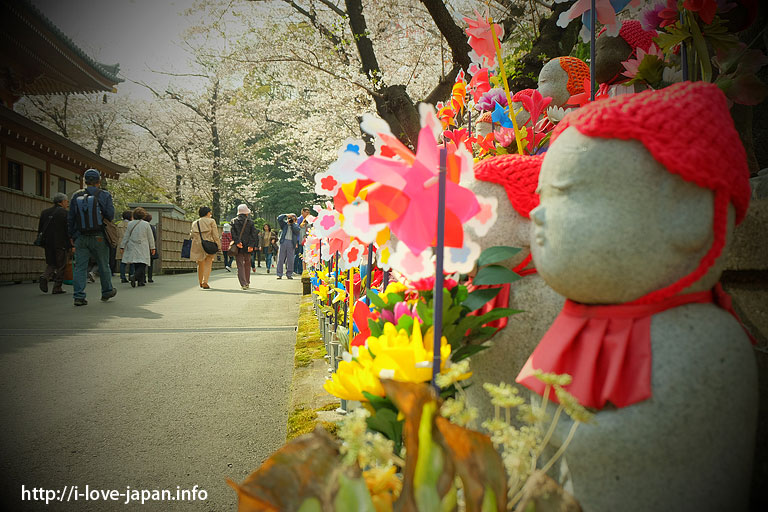 There were Buddha statues of the memorial for the "Mizuko".
"Mizuko" is the children who could not be born into this world in various0 circumstances.
I hope they are smiling to see the cherry blossoms.
▼【More】Zojoji Temple
Shiba Park Cherry Blossom(Minato-ku,Tokyo)
---
Gotokuji Temple(Odakyu Line:Gotokuji Station)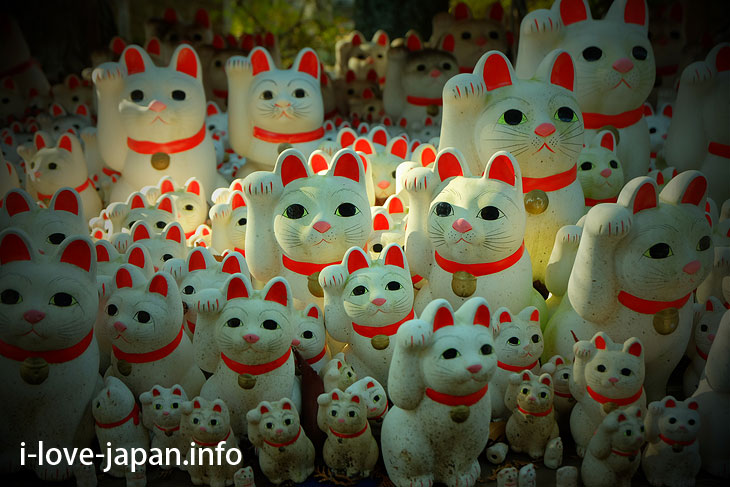 "The lucky cat" is an ornament that invites happiness.
The temple, where "lucky cats" are dedicated a lot is "Gotokuji Temple".
▼【More】Gotokuji Temple
A temple with lots of lucky cats "Gotokuji Temple"(Setagaya-ku,Tokyo)
---
Fukagawa Fudo(Tozai Line:Monzen Nakamachi Station)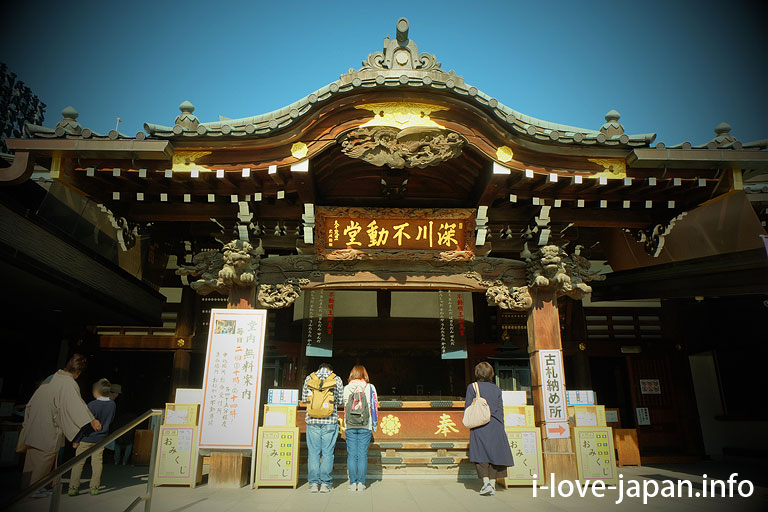 "Fukagawa fudo" is not a shrine but a temple of hte Shingon Buddhist.
▼【More】Fukagawa Fudo
Tomioka hachimangu(Shrine)+Fukagawa fudo(Temple)/Koutou-ku,Tokyo
---
Shrine Temple difference
What's Shrine?
The shrine is the place where God exists.
Japanese thinks that God will stay in anything.
So, there are many shrines around here in Japan.
What's Temple?
The temple is a place to spread Buddhism.
A typical Japanese does not mind the difference between "shrine" and "temple".
Both "shrine" and "temple" are considered sacred places.
Some Japanese people recognize that Buddhist Buddha is one of many Gods…
【MAP】Shrine and Temple in Tokyo