If you are going around a shrine in Tokyo, let 's tour "Tokyo 10 Shrine".


0.What is "Tokyo 10 Shrine"?
In October, 1867, the Edo Period came to an end.
Emperor Meiji changed Edo to "Tokyo", with Edo Castel as the Imperial Palace, and made it a new capital.
On November 8, 1968 (first year of Meiji era), Emperor Meiji prayed for peace of all people and designated 12 companies as an important shrine.
In 1975, celebrating 50 years of Emperor Showa, They removed two shrine in the distance.
After that, the meaning of tourism became stronger, many people enjoy it.
0-1.What is the order of "Tokyo 10 Shrine" tour?
The order is not decided.
So, let's take a stroll in your favorite order, whenever you like, with your mind.
I'd like to propose the shortest possible order for you.
※The time shown is what we have looked up at Mr.Google.※
1.Oji shrine (JR · Tokyo Metro Namboku Line: Oji Station)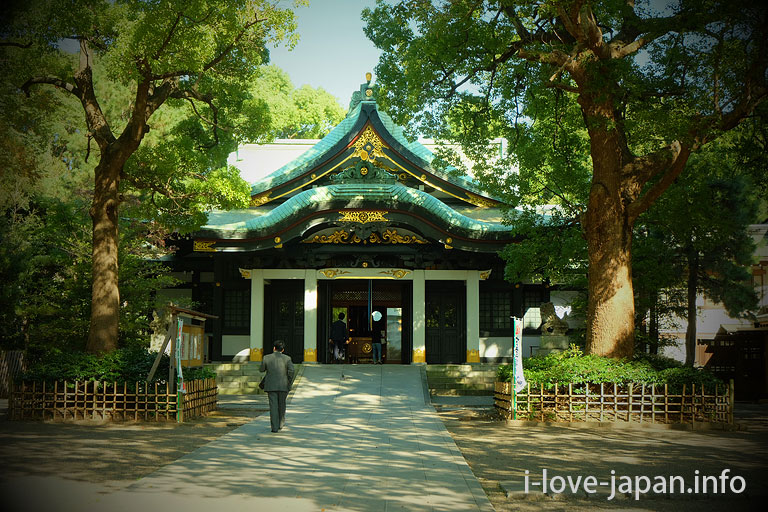 There is a rare "god of hair" in the precincts.
"Oji Inari shrine" in the neighborhood is known for "Fox Parade New Year's Eve", but you can enjoy it even if you visit on the usual day.
▼【More】Oji shrine
https://i-love-japan.info/?p=645
↓
[20 minutes] Tokyo Metro Namboku Line
↓
2.Hakusan Shrine(Tokyo Metro Namboku Line: Hon Komagome Station)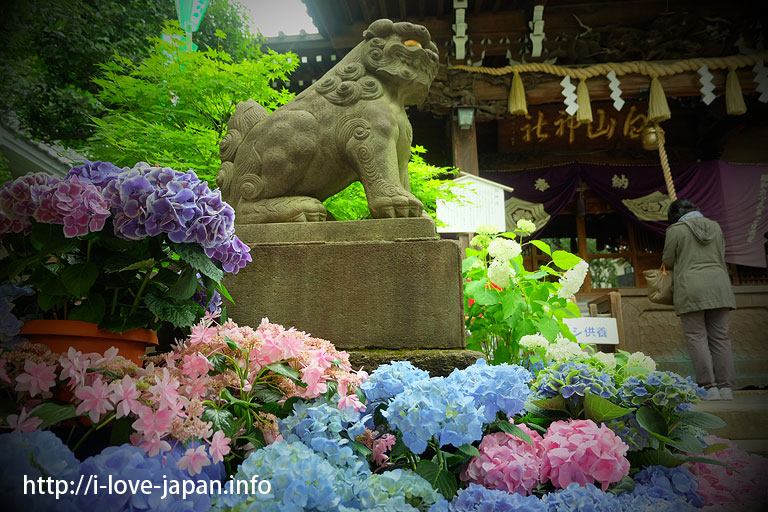 Hakusan Shrine is known as "hydrangea".
If you visit "hydrangea festival", you can climb Mini Fuji called "Fuji-duka".
▼【More】Hakusan Shrine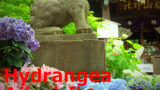 Hydrangea(Ajisai-flower) at Hakusan Shrine(Bunkyo-ku,Tokyo)
Hydrangeas bloom in the rainy season, in Japan. You can see the hydrangeas here and there in Japan. But I recommend H...
↓
【13 minutes】 walking
Or
【13 minutes】 Metropolitan bus "草6" To Asakusa Kotobuki-machi(Hakusan Ue – Dango Saka-shita)
↓
3.Nezu shrine(5 minutes on foot from Chiyoda Line: Nezu Station · Sendagi Station, Nanboku Line:Tokyo University Station)

There are many Inari shrines with many red torii in Tokyo.
Among them, "Nezu shrine" is popular.
I was overwhelmed by not only the red torii but also the buildings designated as important cultural properties.
※Confirm precautions for taking photos

▼【More】Nezu shrine

Nezu shrine with many red toriis!Azalea's season is recommended (Bunkyo-ku, Tokyo)

There are many Inari shrines with many red torii in Tokyo. Among them, "Nezu shrine" is popular. I was overwhelmed by ...

↓
【20 minutes】Chiyoda Line
↓

4.Kanda Myojin Shrine(Chiyoda Line: Yushima Station / Chuo Line / Sobu Line: Ochanomizu Station)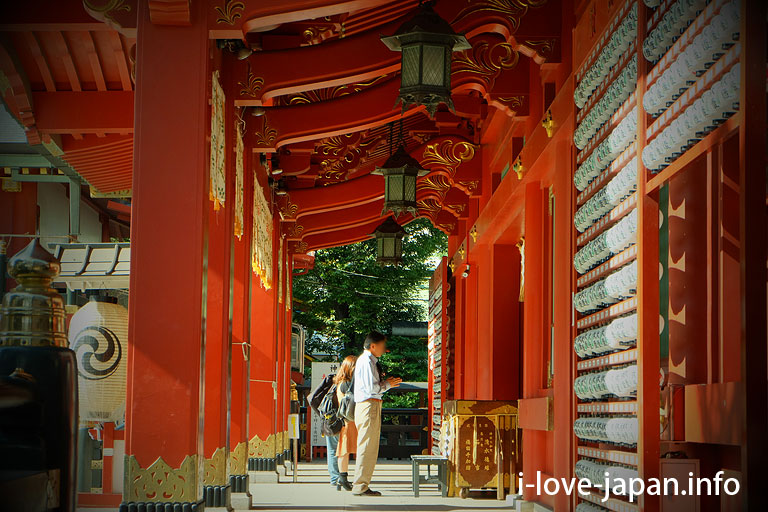 "Kanda Myojin Shrine" has a history of nearly 1,300 years, settled in Edo-Tokyo.
Even so, here is a downtown ,you do not have to get so formal.
Recently "collaboration with Love Live" are also drawing attention.
▼【More】Kanda Myojin Shrine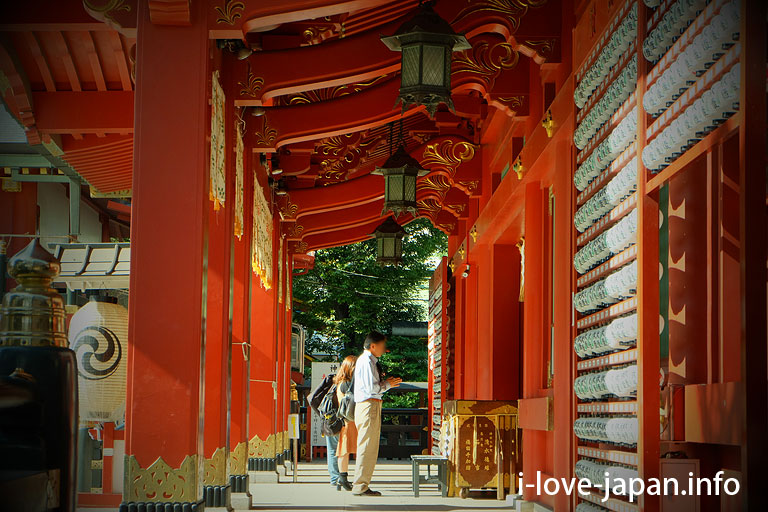 Kanda Myojin Shrine(Chiyoda-ku,Tokyo)
1.Kanda Myojin Shrine IF you access from the "Ochanomizu Station of the Marunouchi Line", you will evade this big t...
↓
【32 minutes】 Central Line · Sobu Line
↓
5.Kameido Tenjin Shrine(Sobu line: Kameido station)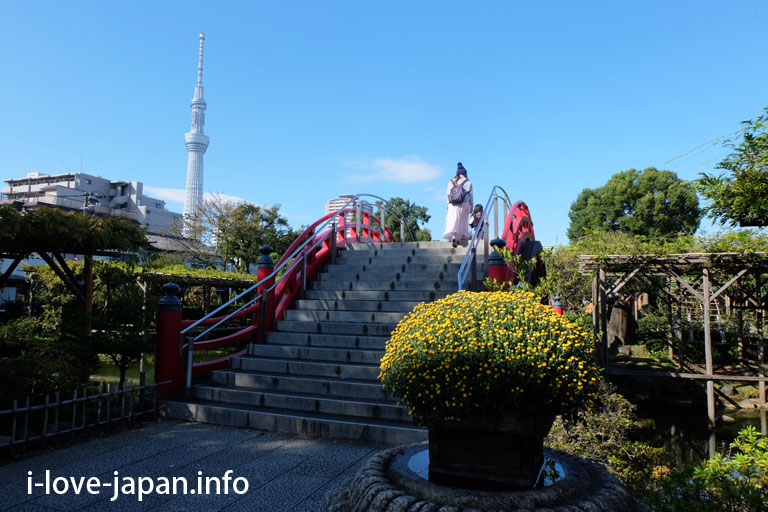 As you pass through the entrance torii, there is a Shinji-Pond and three bridges follow the Kyushu Dazaifu Tenmangu Shrine.
You can cross such a "Taiko Bridge" and take a two-shot of a traditional building and the Sky Tree.
Kameido Tenjin Shrine is famous for "plum" and "wisteria", so you may visit during that season.
▼【More】Kameido Tenjin Shrine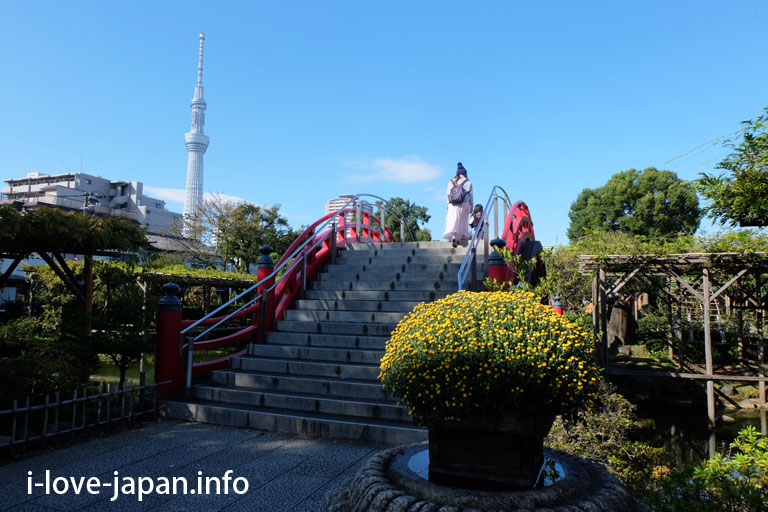 Kameido Tenjin Shrine(Koutou-ku,Tokyo)
1.Kameido Tenjin Shrine Kameido Tenjin Shrine is called "Kameido-Tenjin-Sama", "Kameido Tenmanguu", and it is popul...
↓
【36 minutes】 Metropolitan bus "門33" to Toyomi Fishery Wharf(Kameido 4-chome/Fukagawa 2-chome)
↓
Tomioka hachimangu Shrine(Oedo Line: Monzen Nakamachi station)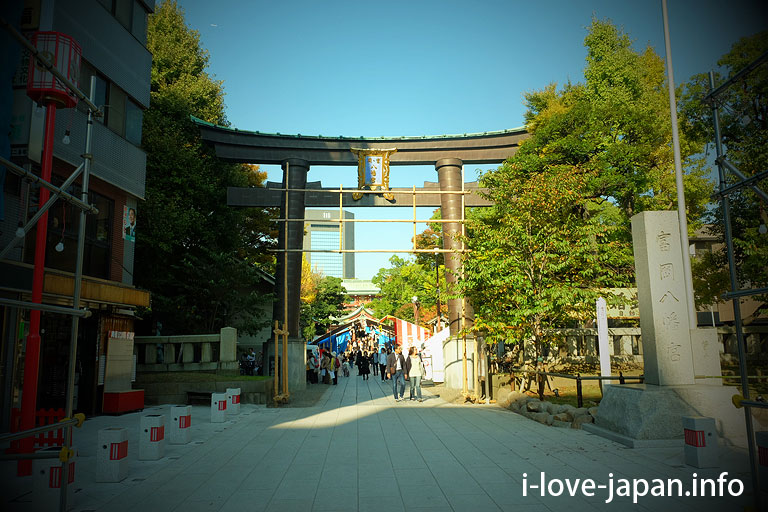 Narita-san Tokyo Betuin "Fukagawa Fudo" is nearby.
You can visit the shrine and the temple while thinking the differences and similarities.
▼【More】Tomioka hachimangu Shrine
Tomioka hachimangu(Shrine)+Fukagawa fudo(Temple)/Koutou-ku,Tokyo
↓
【19 minutes】 Oedo Line
↓
Shiba Daijingu Shrine(Oedo Line: Daimon Station)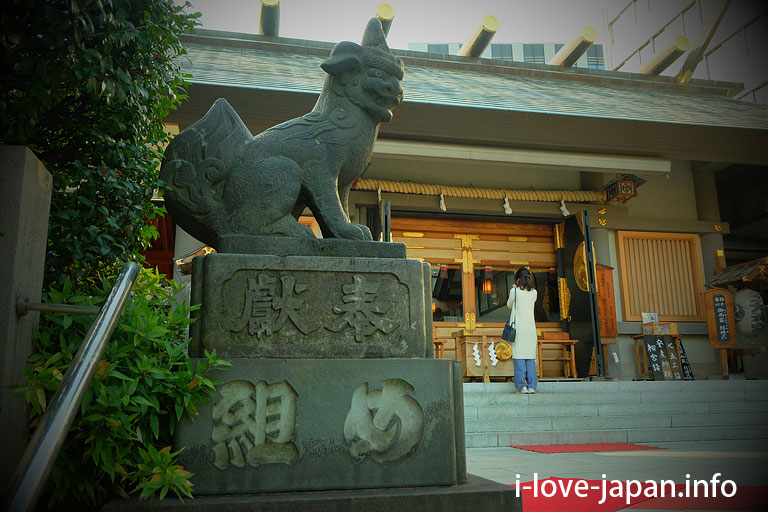 Shiba Daijingu Shrine is one of the leading shrines in Tokyo, which has a history of 1000 years.
In the Edo era, we gathered common people's faith in Kanto are, and received the reverence of many people as "Ise of Kanto".
It is a cozy shrine,So I recommend to visit with Zojoji temple.
▼【More】Shiba Daijingu Shrine
Shiba Daijingu Shrine and Zojoji Temple(Minato-ku,Tokyo)
↓
【22 minutes】 Asakusa line + Keikyu main line
↓
Shinagawa shrine(Keikyu Main Line: Shinbanba Station)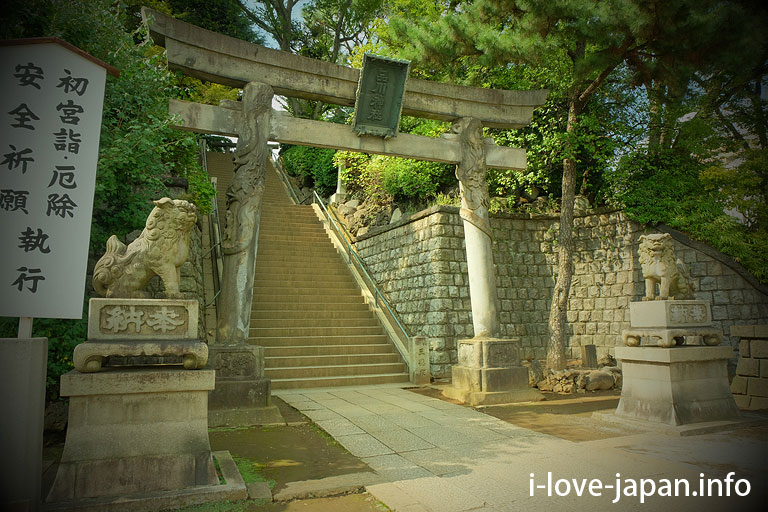 I love Shinagawa shrine(* ̄ー ̄*)
There is a lot of red torii in "Ana Inari shrine", there is "Shinagawa Fuji" that can climb all the time, Mt. Fuji is drawn on the foundation of Guardian dog, there are stone frogs.
A dragon staring at torii is splendid.
▼【More】Shinagawa shrine
Fuji climbing!? at Shinagawa shrine(Shinagawa-ku,Tokyo)
↓
【42 minutes】Metropolitan bus "反96" To Roppongi Hills (Yatsusanbashi / Roppongi station)
↓
Akasaka Hikawa Jinja Shrine(Hibiya Line · Oedo Line: Roppongi Station)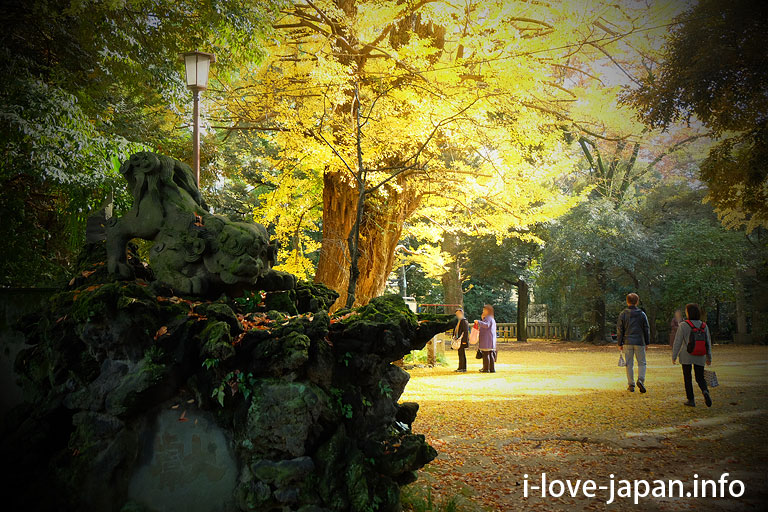 It is a shrine with many attractions such as some shrines in the precincts, guardian dogs, ginkgo of 400 years old.
I recommend the season of autumn leaves and ginkgo.
▼【More】Akasaka Hikawa Jinja Shrine
Akasaka Hikawa Jinja Shrine(Minato-ku,Tokyo)
↓
【13 minutes】 walking
↓
Hie Shrine(Tokyo Metro Nanboku Line: Tameike Sanno Station)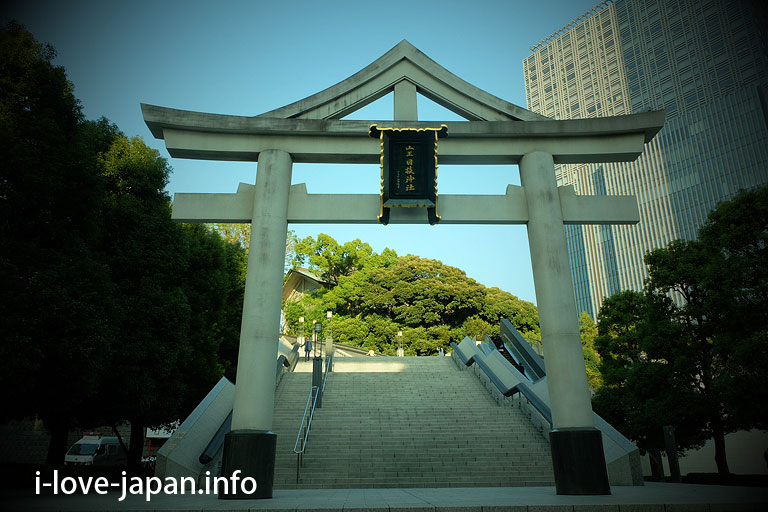 Hie Shrine has "Sanno torii".
The "Sanno torii" has the mountain on top of a typical torii.
"Monkeys(not real)" are here and there, and are shaking smile.
There are also "Inari shrines" where many red torii are lined up, so I recommended for red torii fans.
▼【More】Hie Shrine(Akasaka,Chiyoda-ku,Tokyo)Don't miss Snnou-torii gate,and many red torii gates
"Tokyo 10 Shrine" tour
While gathering the Gosyuin(red stamps), it is good to go around "Tokyo 10 Shrine" tour" like a stamp rally.
Let's preserve manner of visiting a shrine.