I traveled in Miyazaki prefecture by the Nichinan Line Train.

1. Access to Aoshima shrine from Miyazaki Airport
1-1. 【Train】 From Miyazaki Airport Station to Aoshima Station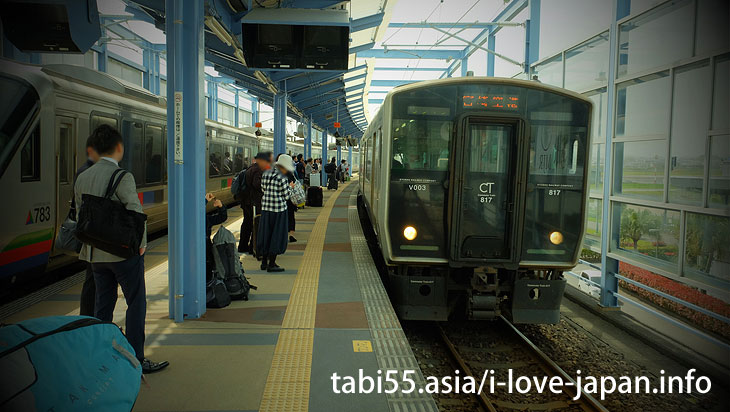 From Miyazaki airport to Aoshima station, you will access by Nichinan Line.
Nichinan Line is convenient if you get on, but the number of trains is small.
I recommend that you schedule in advance by checking the timetable.
* Google map is compatible *
You can not use the prepaid cards such as "suica" in Nichinan Line depending on the section.
At Miyazaki airport station, I could buy a ticket with "suica" by vending machine.
Let's prepare small change.
▼ Timetable from Miyazaki airport station
https://www.jrkyushu-timetable.jp/cgi-bin/jr-k_time/tt_dep.cgi?c=28904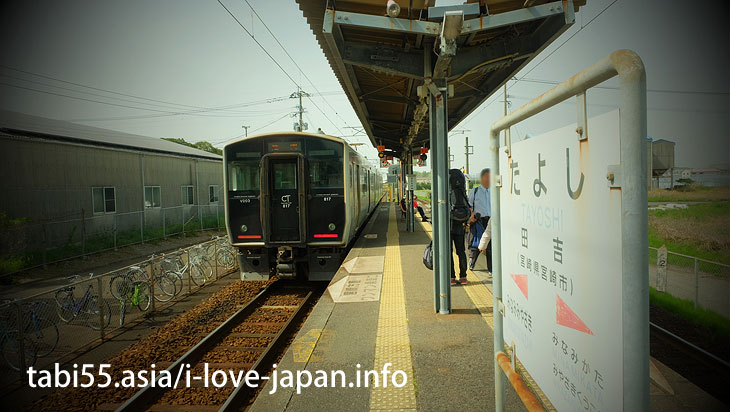 Take the Miyazaki airport line from Miyazaki airport station and get off at Tanoyoshi station.
Even though it is a transfer station from the airport, this peacefulness…
▼ Takeyoshi station timetable / Nichinan Line Aoshima, Aburatu, Shibushi direction
https://www.jrkyushu-timetable.jp/cgi-bin/jr-k_time/tt_dep.cgi?c=29087
※ It is middle of page ※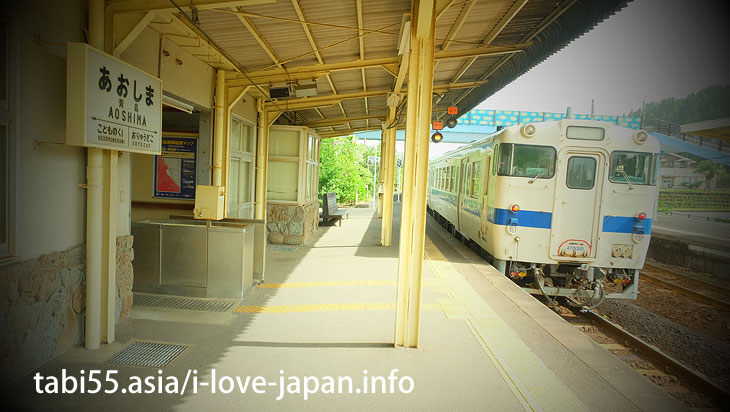 From Takeyoshi station to Aoshima station, if you get on the train you will arrive in 22 minutes.
1-2. From Aoshima station to Aoshima Shrine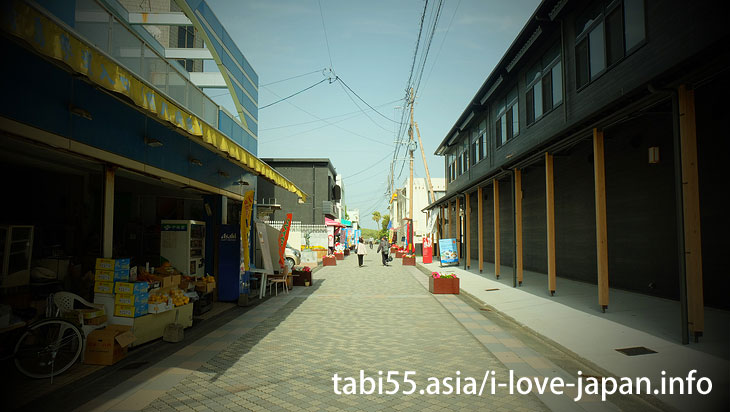 Google Maps say 17 minutes on foot (1.4 km) from Aoshima station to Aoshima Shrine.
Since there is a signboard, let's walk.
2. Aoshima shrine is located in Aoshima Island surrounded by Devil's Washboard
Until I visited, I could not understand the positional relation of "Aoshima Island" "Aoshima Shrine" "Demon washboard".
We actually visited and found that "Qingdao Shrine is in Qingdao surrounded by the Devil's Washboard".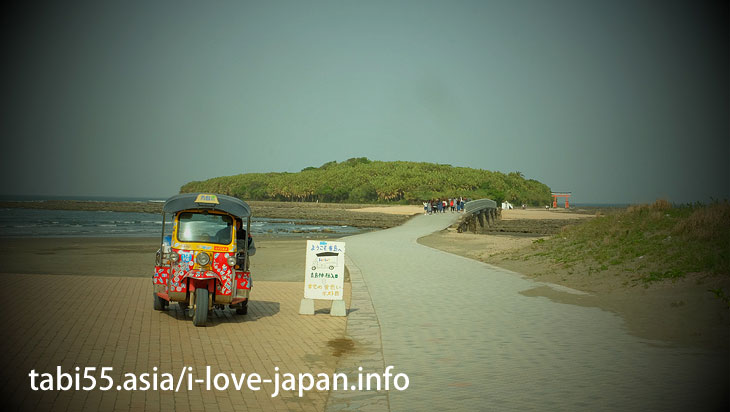 It is Aoshima Island that is surrounded by subtropical plants.
There is a "devil's washboard" to surround Aoshima Island, and you can see the torii of Aoshima Shrine right back.
It might be fun to get on the tuk-tuk and go Aoshima.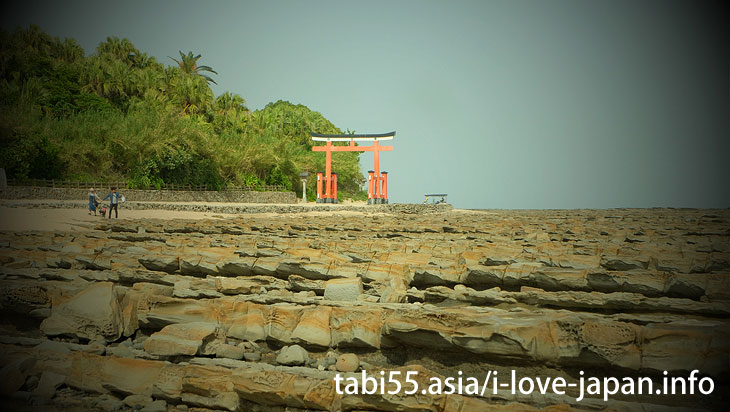 Cross the Yayoi bridge, take a photo of the devil's washing board and the torii of Aoshima Shrine.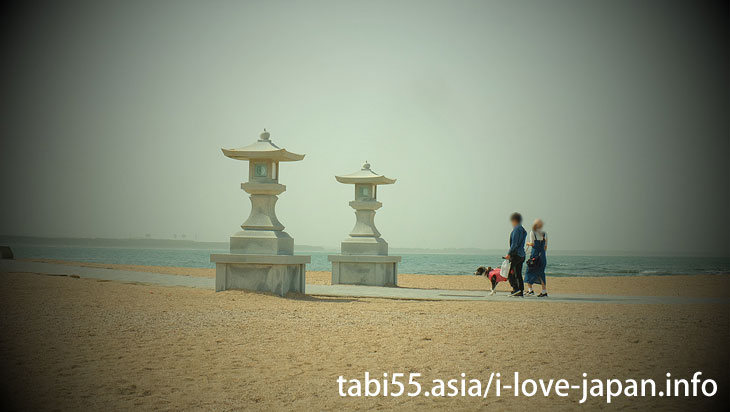 There is a stone tower on one main road above the sea.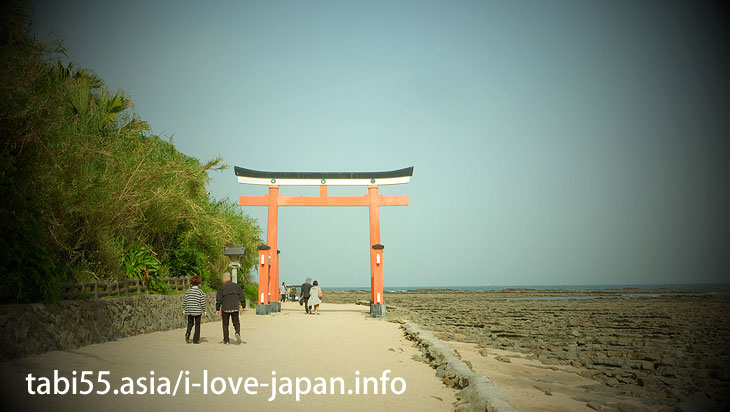 Another piece, Torii and devil's washboard.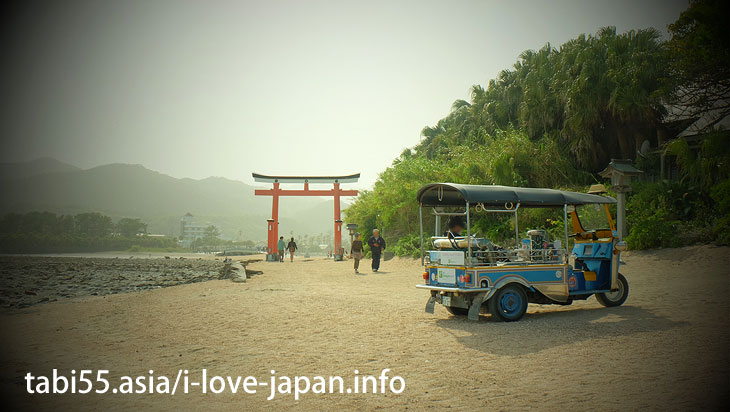 There was another tuk tuk(* ̄ー ̄*)
3. Aoshima shrine Be sure to watch the Motomiya that was protected by subtropical trees!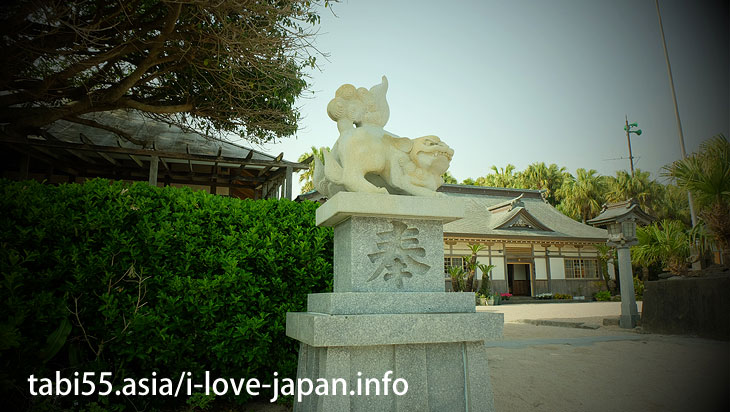 Finally You will enter the precincts of Aoshima Shrine.
The lion's tail is unique.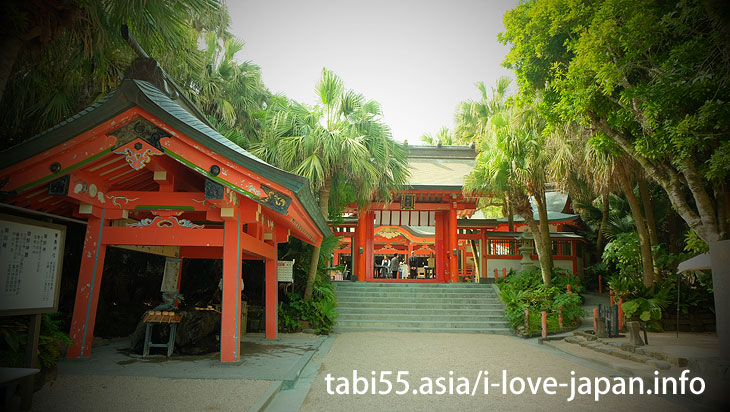 It is a priceless scenery that subtropical "Chinese fun palm" and the painted red buildings combine.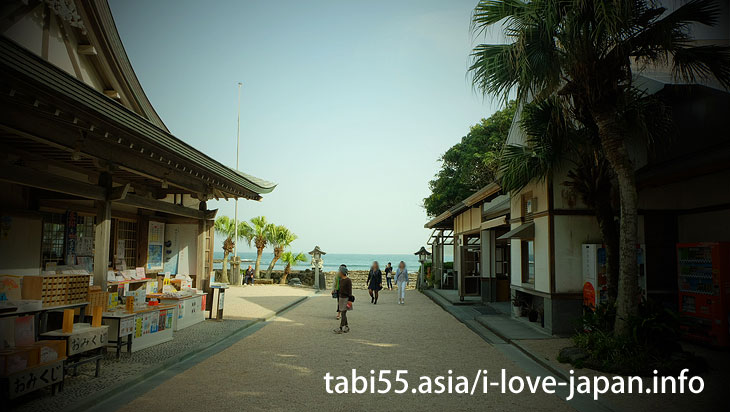 When you swing, you can see the ocean beyond the wash board of the devil.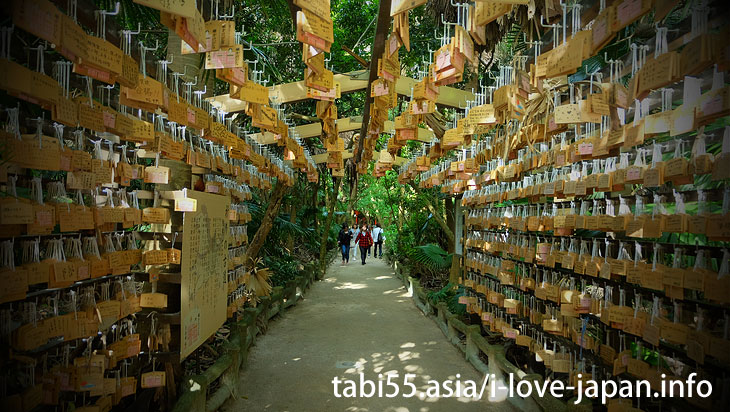 First I am going to visit the main shrine.
Then, go through the tunnel of the ema, to the Motomiya.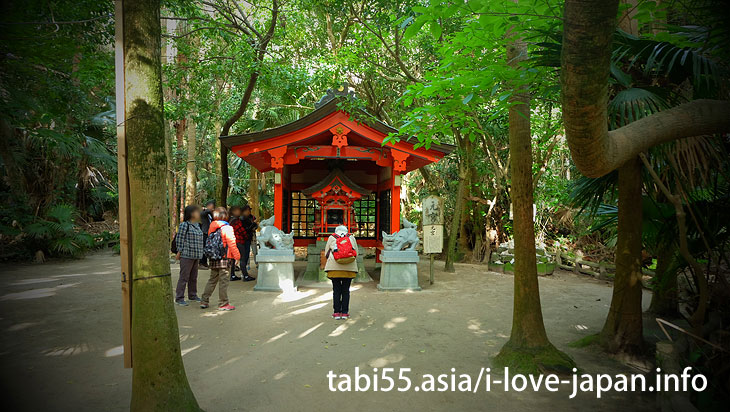 Trees grew in the approaching path and seemed to protect the Motomiya.
Can you see that two thick ropes are hung in the left back of the Motomiya?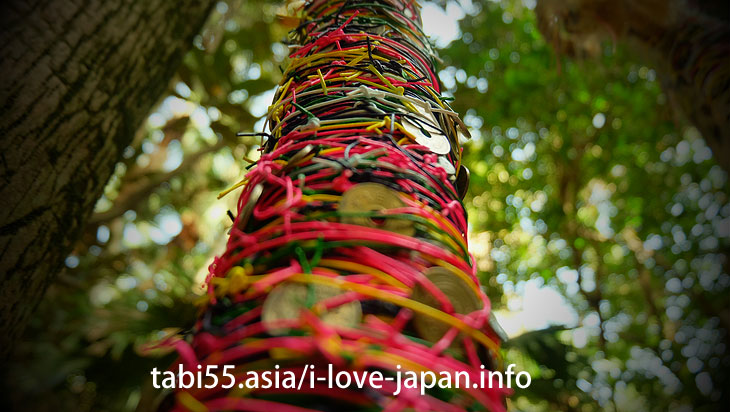 If you connect a thin string to that thick rope and pray, your wish will come true.
Of course I also wished.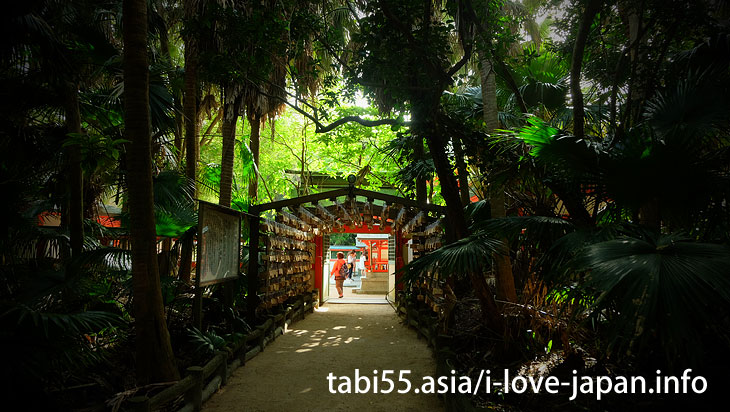 Looking back on the way that you came, you can see that the Subtropical forest protected Motomiya.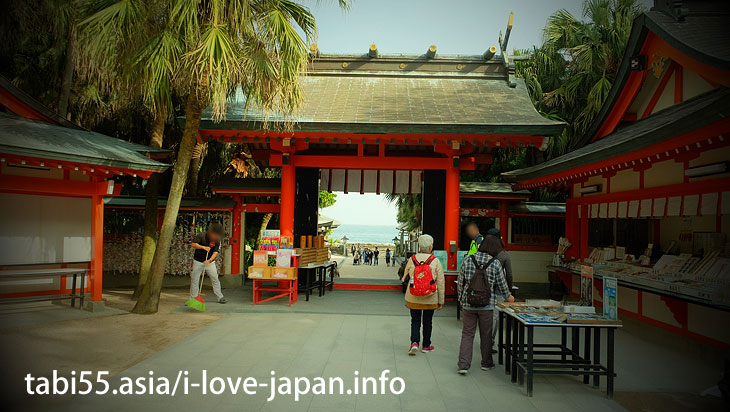 The ocean over the vermilion gate is also exceptional.
4. Let's take a walk! around Aoshima Island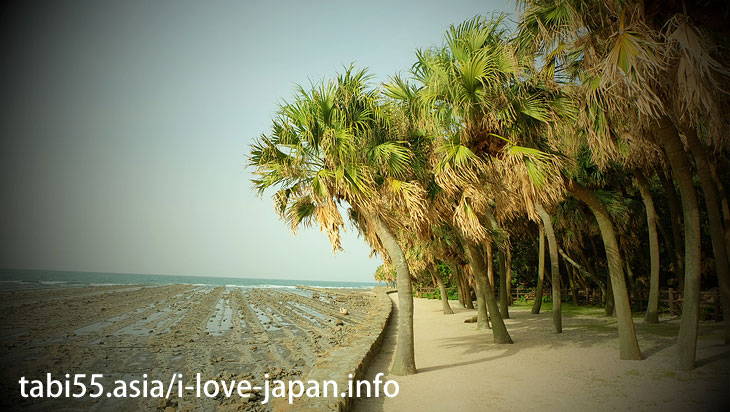 It is a waste to go home just by visiting Aoshima Shrine.
Since there was a walking path that could go around Aoshima Island roundabout, let's take a walk while watching the devil's washing board.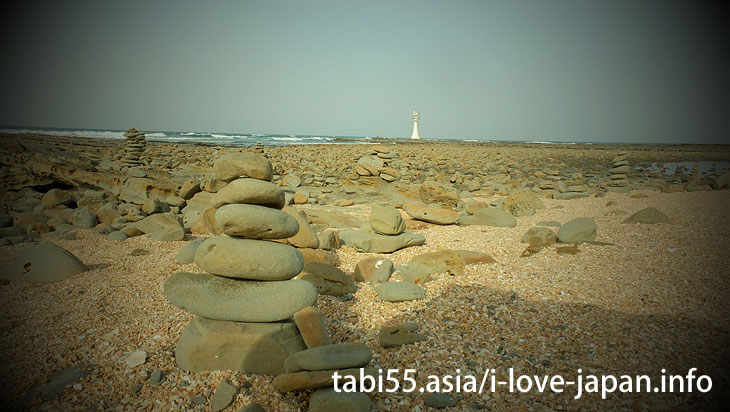 There are also people who lay stones.
It is around 20 minutes to go round Aoshima, cross the Yayoi bridge and return to the yellow post.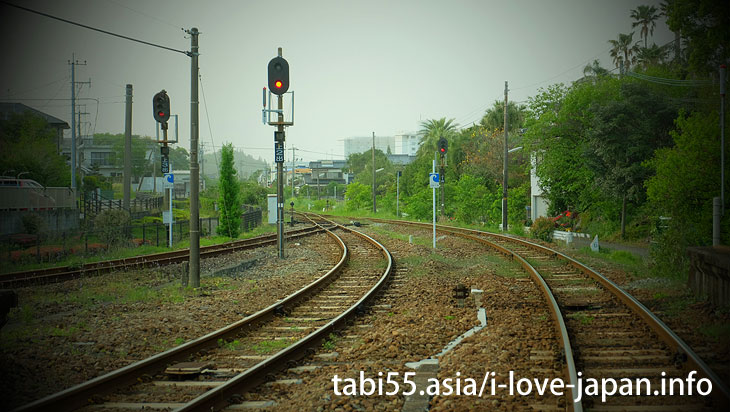 And I came back to Aoshima station.
About 1 hour and 45 minutes from Aoshima station, I were able to enjoy "Aoshima" as much as this.
▼ Aoshima station timetable
https://www.jrkyushu-timetable.jp/cgi-bin/jr-k_time/tt_dep.cgi?c=28818
▼【Offcial】Aoshima Shrine
http://www.aoshimajinja.sakura.ne.jp/
5. Miyazaki Travel Sightseeing Map
▼Share Japan in 15sec on YouTube ( ̄^ ̄)ゞ