I was doing island hopping in the Amami Islands.
Next to "Okinoerabu-jima island", I went to Tokuno-shima Island by ferry.
On Tokunoshima, They do not correspond to English much…
It might be better to visit with friends who can speak Japanese.

1. Access to Tokunoshima (Direction)
You can access by airplane and ferry.
1-1. Access to Tokunoshima【Airplane】
60 minutes from Kagoshima Airport to Tokunoshima Airport
1-2. Access to Tokunoshima【Ferry】
About 14 hours and half from Kagoshima Port
About seven and a half hours from Naha Port (Okinawa)
1-3.Traffic within Tokunoshima
▼ There are few bus lines.
http://www.sogorikuun.com/
▼ Car rental is recommended
http://www.town.isen.kagoshima.jp/cont.php?parent=4&depth=0&target=15
2. Tourist spots in Tokunoshima 【Day 1】
2-1.Kinen-hama beach coast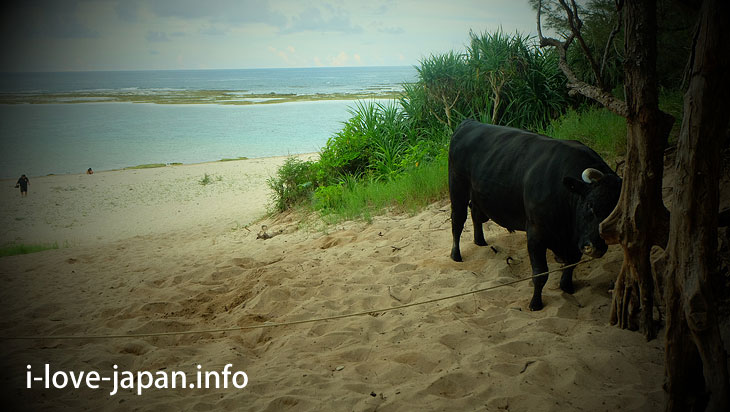 Bullfights are prosperous in Tokunoshima.
If you are lucky, you will be able to meet Bullfight cow on the island.
2-2.Battle Ship Yamato Memorial Tower at Cape Inutabu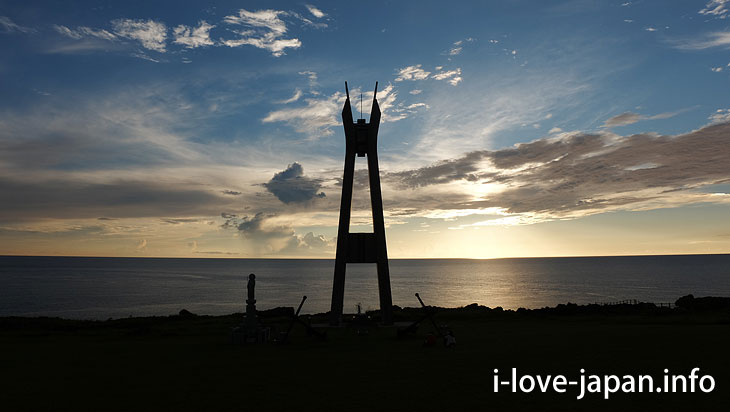 At the end of World War II, there were neither sea nor air control, the "battleship Yamato" went to Okinawa.
And it was sunk.
If you do not mind, please pray for those who died in World War II.
2-3. Innojoufuta is beautiful even at dusk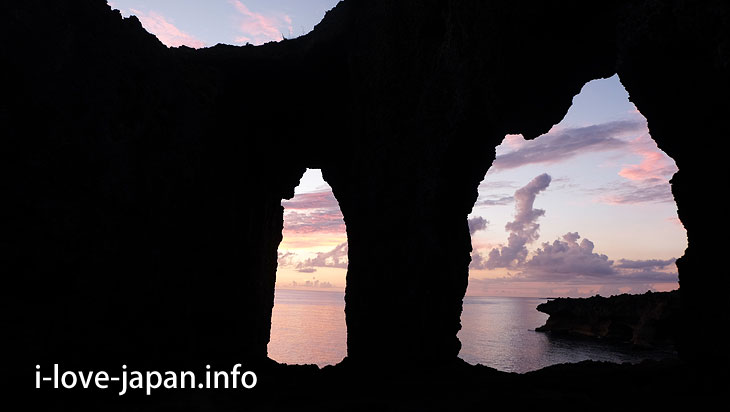 It is a scenic point where you see the sea and the sky from rocks like glasses.
You often see "blue sea and sky", but it is beautiful even at dusk.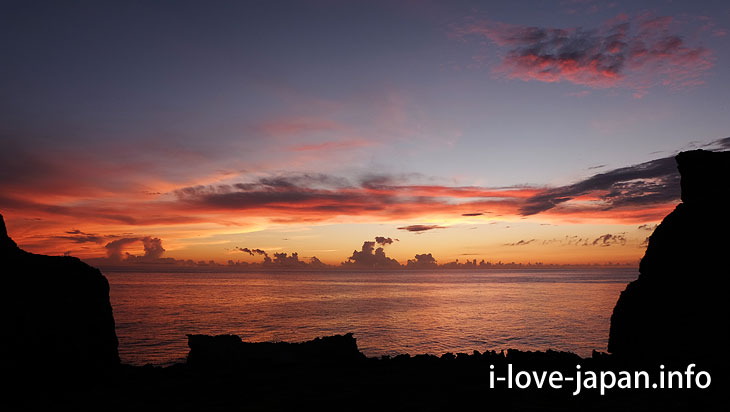 The sunset seen from the end of the walking path is wonderfulヽ( ̄▼ ̄*)ノ
3. Tourist spots in Tokunoshima 【Day 2】
3-1. Cliff! To Inutabu Cape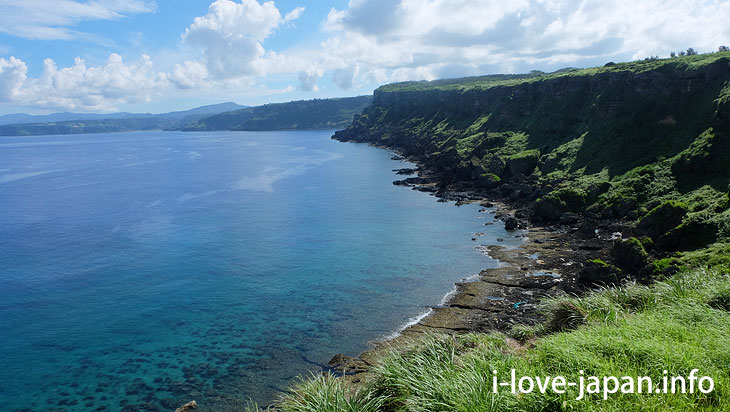 The rough skin of the cliff and the splendor of the coral reef are wonderful.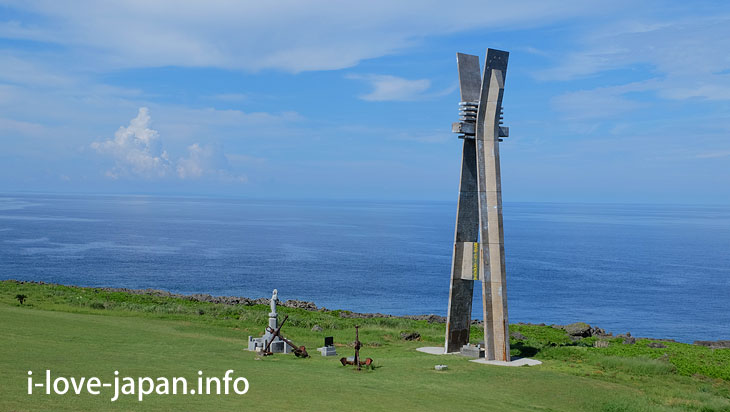 Once more, I visited the "Battleship Yamato Memorial Tower".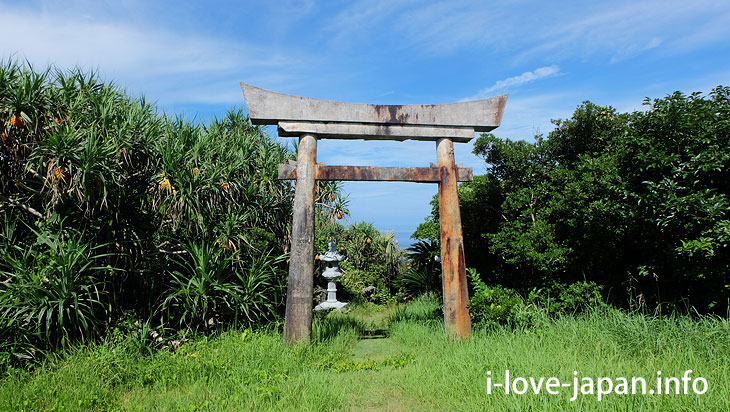 There are old torii and a new stone tower.
I was curious about what kind of origin.
3-2.Not only "Innomonjo" But also "View from the walk way" is also recommended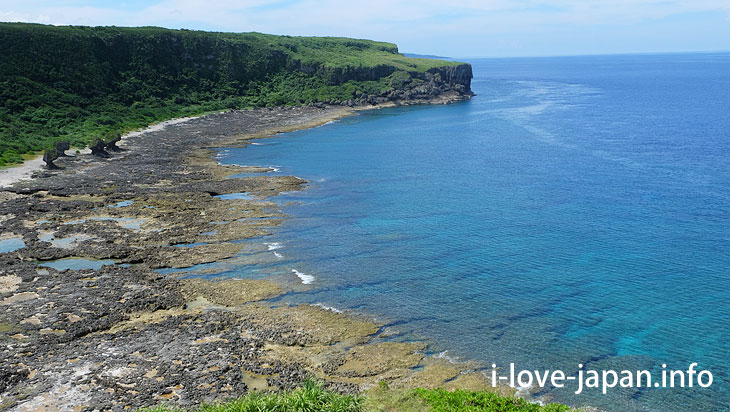 I also wanted to see the blue "Innomonjo" and I visited again.
From the observation deck you can see the cliffs and the spectacular view of the coral reefs.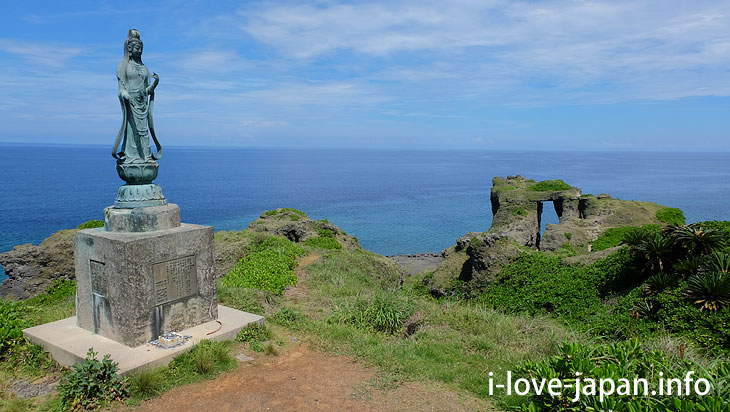 Kannon also exists.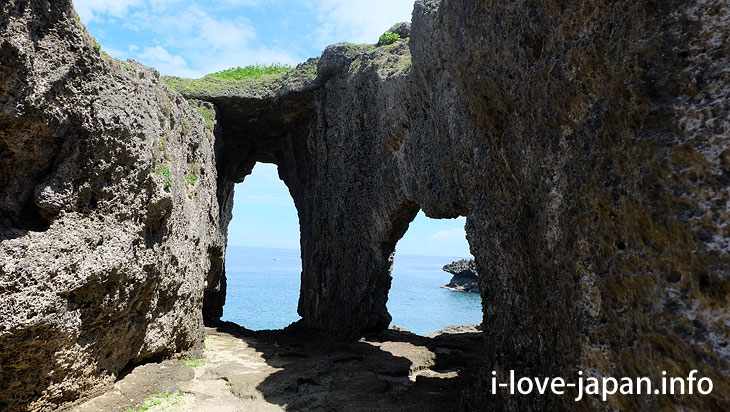 I was able to see the blue "Innomonjo".
3-3. Umbuki (sea of land), I found a "suicide squad flower(特攻花)"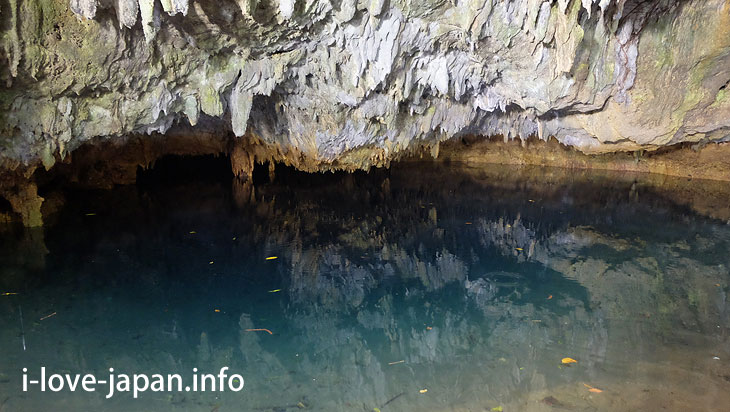 "Umbuki" is a submarine cavern where the cave is sunk and connected to the ocean about 400 meters away.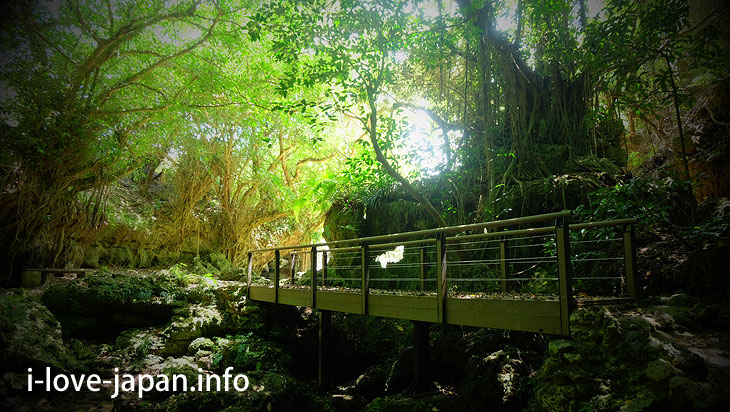 I liked the tree of a banyan holding a rock.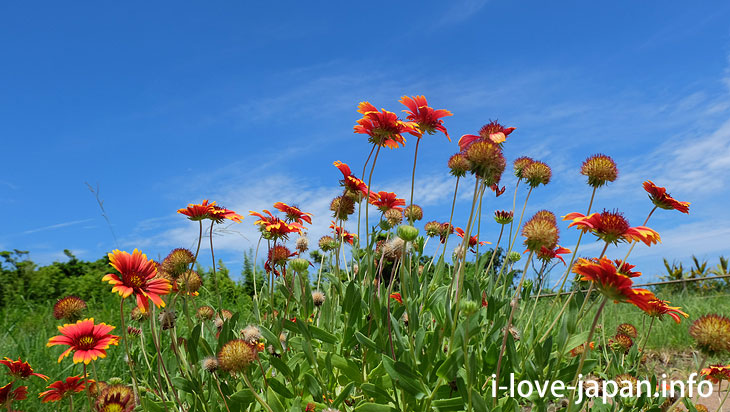 In "Umbuki ", I found "suicide squad flower(特攻花)" that lives in Kikai Island.
I decided to drop in the memorial monument of the suicide squad.
3-4.Asama Army Airfield (runway) ruins and memorial monument of the suicide squad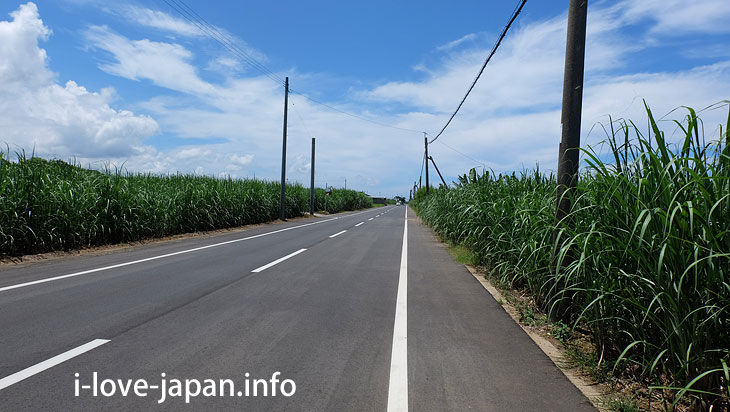 At the end of World War II, the suicide squad flew away from "Asama Army Airfield (Runway)".
Now called "Peace-tori ", it is becoming a living road of the people of the area.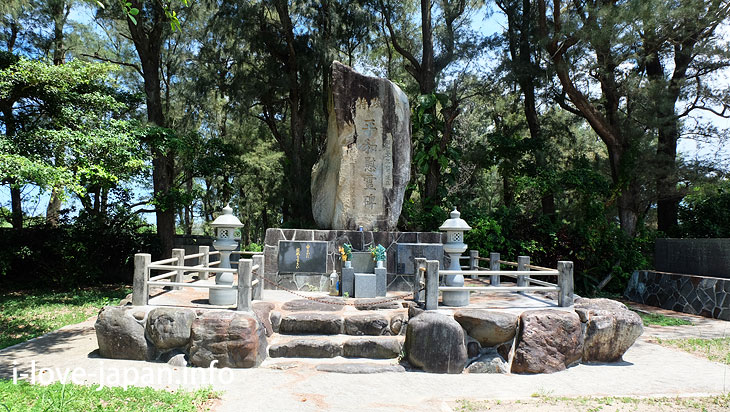 On the sacrifice of these people, there is peaceful now.
We put hands together and prayed.
3-5.Yonama Beach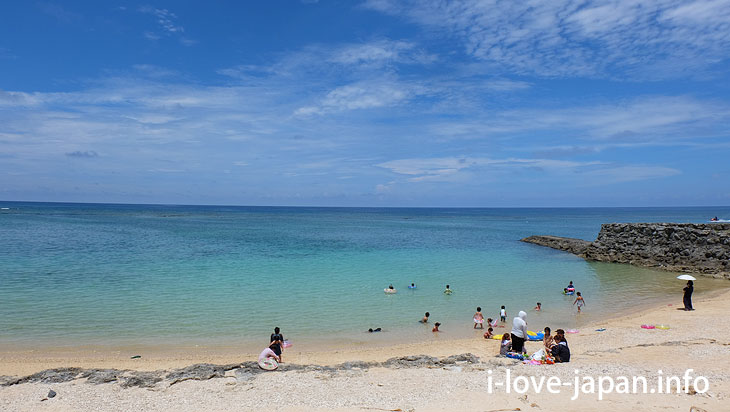 It is recommended for families.
3-6.Wander around rough rocks! Mushirose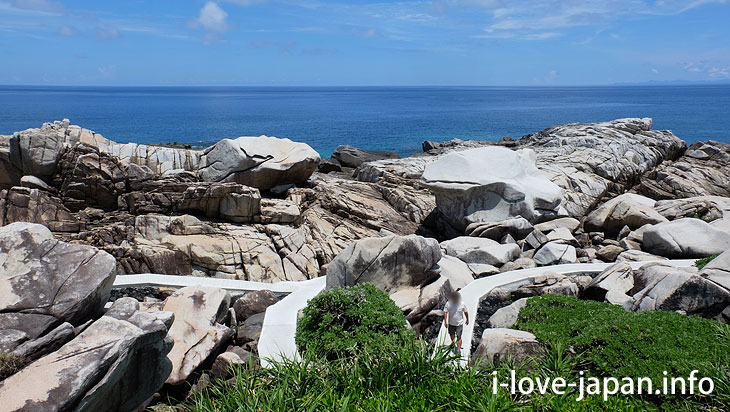 It was named for the granite to look like "Mushiro".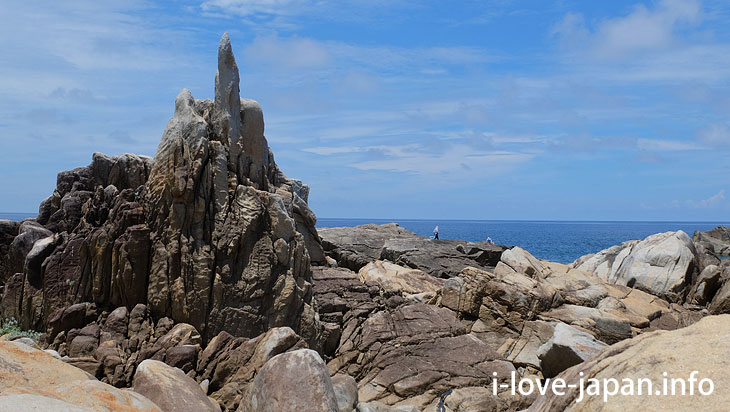 I tried to express it with a metaphor, but I could not think of something similar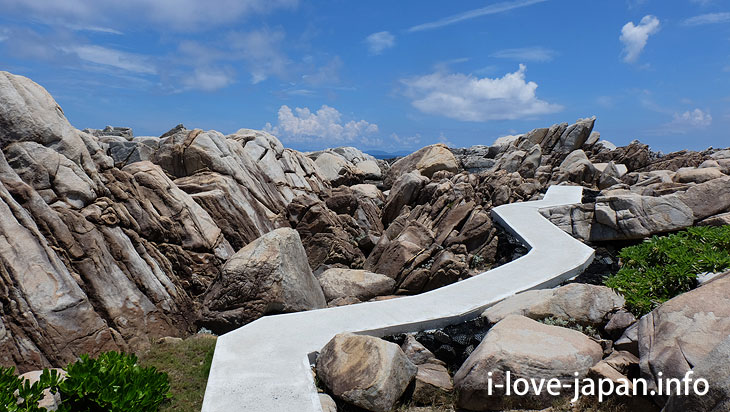 If you like strange rocks, there is no doubt that the tension will rise!
3-7.Amami Tokunoshima Limited! Attention to black rabbits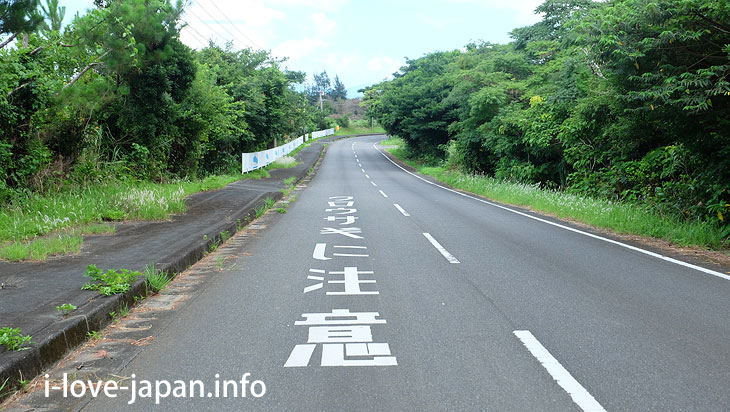 "Amamino black rabbit" which inhabits only Amami Oshima and Tokunoshima seems to appear in this area.
Because it is written in Japanese on the road as "Black Rabbit attention(クロウサギ注意)"…
3-8.Cycads Tunnel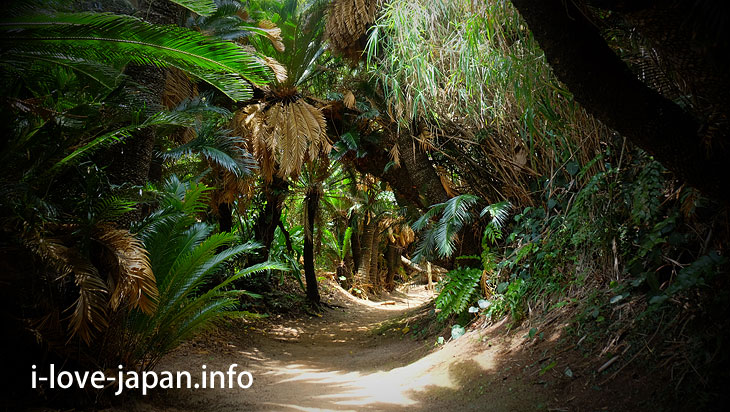 It is a remembrance when the fields of Tokunoshima were separated by "Cycads"
3-9. Eating the Tokonoshima specialty@島料理畦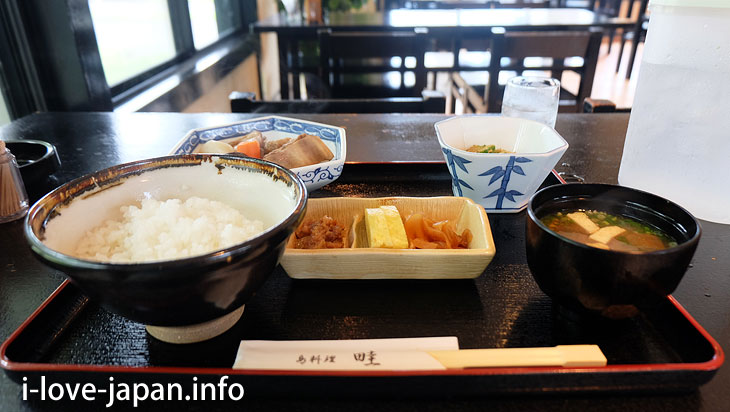 I had a set menu of island cuisine.
3-10. Lucky to see the bullfight practice game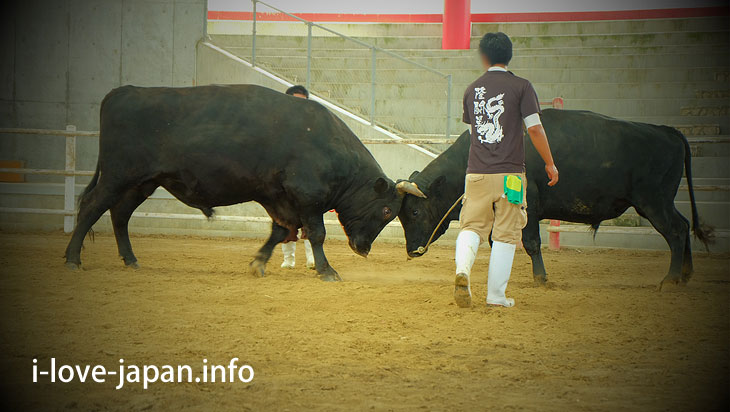 It was not a bullfighting day, but since I had time, I visited "Tokunoshima Nakasamikan".
Luckily I was able to see the bullfighting practice game.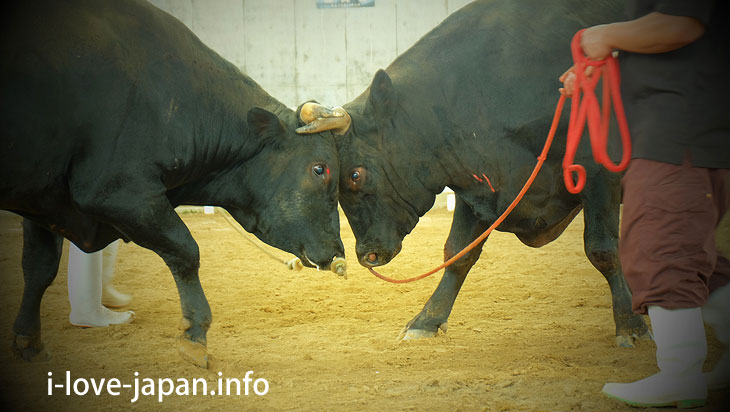 A young man with an innocent face moved the bullfight
"The future of Tokunoshima is bright," I was impressed.
▼Bullfight schedule
http://tokunoshima.today/blog/experience/bull.html
3-11.While watching the sunset at the sea, to Amami Oshima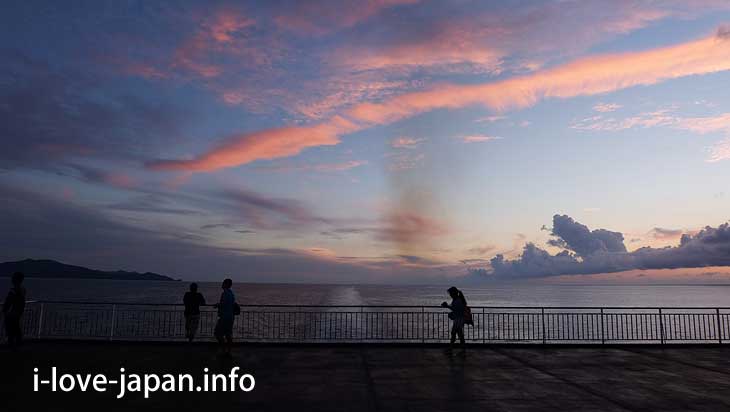 From Kameoku Port,  I aim at Amami Oshima by ferry.
The sunset glow seen from the sea was exceptional.
▼徳之島観光連盟
http://www.tokunoshima-kanko.com/
4.【MAP】the Amami Islands journey
▼Share Japan in 15sec on YouTube