In the south area of Osaka(ミナミ/Minami), the town itself seems to be a "Theme Park".
Let's enjoy Osaka "Minami" full of personality.

1.Dotonbori! Night's Recommended Course
1-1.Namba Station【26-D】Exit

Walking along the south side of the Dotonbori River, you will see a shining neon.
1-2.Tombori River Cruise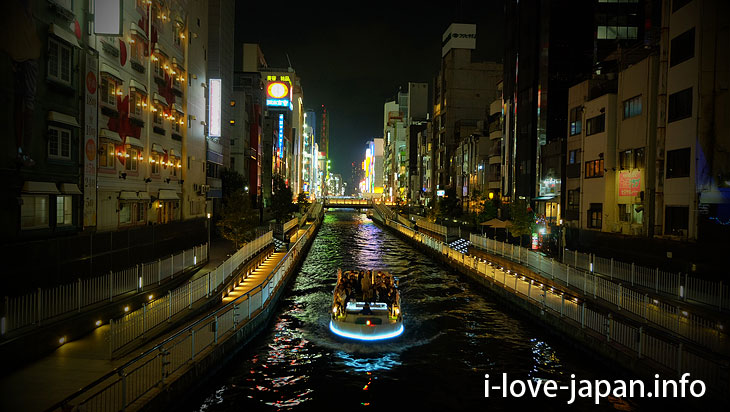 A sightseeing ship passed through the bridge.
The sightseeing boat takes about 20 minutes.
On weekdays, departing from 13:00, Saturdays · Sundays · holidays · busy days from 11: 00 to 21:00, every hour at 00 minutes, 30 minutes.
The night view seen from the river will be wonderful.
▼Pamphlet|Tombori River Cruise
http://www.ipponmatsu.co.jp/gallery/pamphlet.html
1-3.Namba Dotonbori Hotel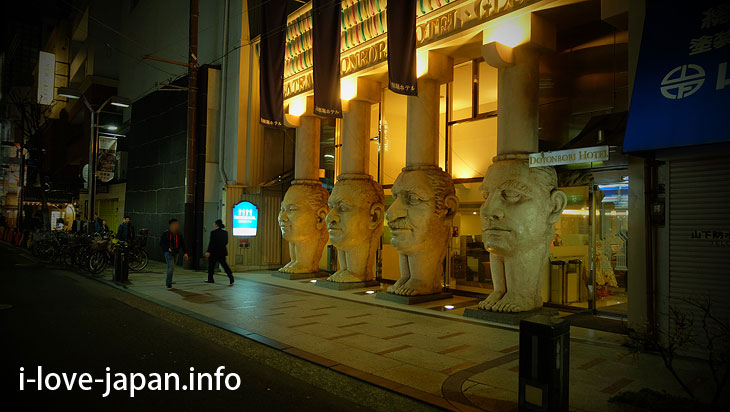 Do you know "Attack on titan" of animation and manga?
Although they are not very similar, I have remembered the giants looking at these four bodies.
And here is the hotel.
Because it is close to downtown area, even if you eat too much and you fall, you can come back.
1-4.Dotombori "SYUSSE(successful career) Jizo"

Due to the massive air raid in 1945, Dotonbori became a burned land.
It seems that the Jizo priest there was gone.
However, a few years after the war ended, this Jizo appeared from the ground.
He(She) was newly named "SYUSSE(successful career) Jizo" and was enshrined in this place.
1-5.Ebisu Bridge seen from Dotonbori Bridge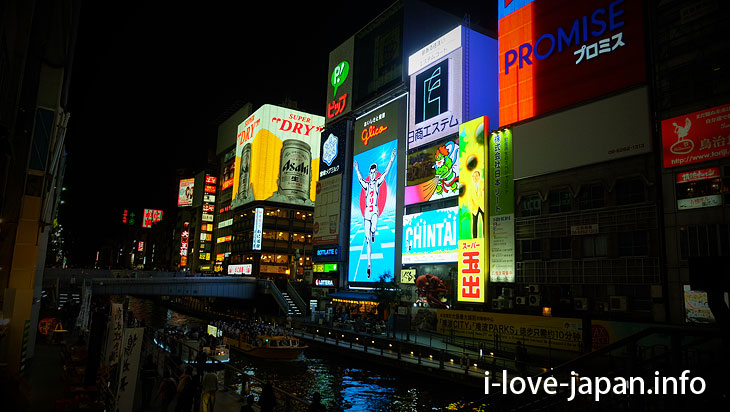 It is "Ebisu Bridge" that you can see in the back.
When the Hanshin Tigers won the professional baseball league(very rarely), enthusiastic fans jump into the Dotonbori River from this bridge.
※ Do not jump in absolutely because it is dangerous ※
1-6.Ebisu Bridge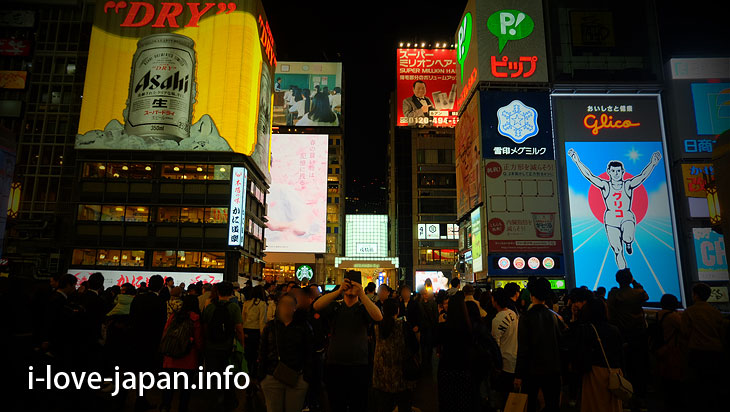 Here is on "Ebisu Bridge".
Let's take a picture with a pose of "Glico man".
1-7.Center of Dotonbori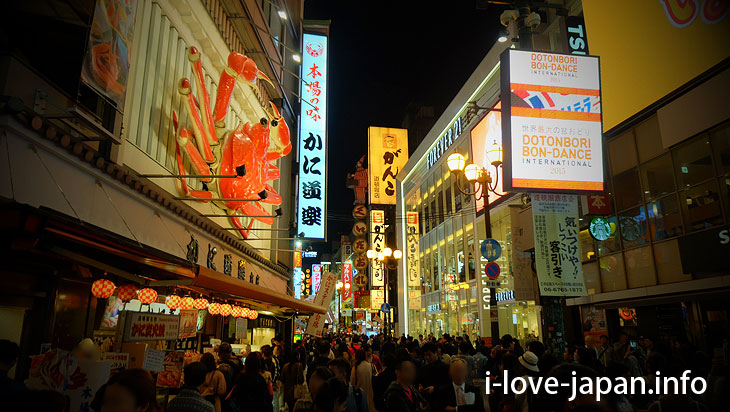 This is one of the most crazy places in Japanヽ( ̄ー ̄ )ノ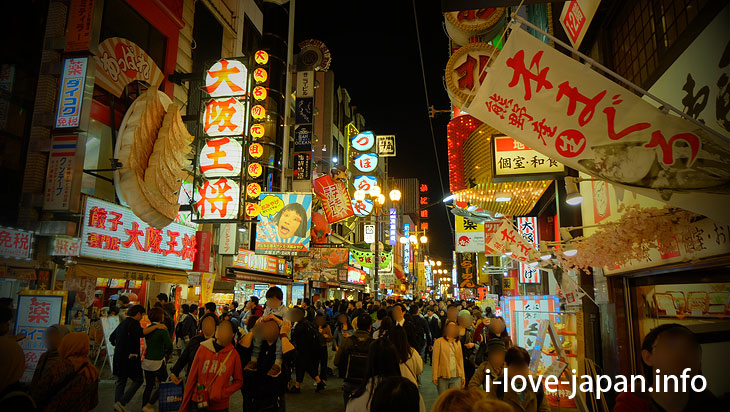 There are various restaurants such as "Takoyaki" "Okonomiyaki" "Sushi" "Crab".
If you are ready to line up, you will be able to eat delicious food.
↓
From here, You will move one train station by subway.
1-8.Nipponbashi station
↓
Subway Sakaisuji Line each stop to Tenka chaya
↓
Ebisu cho(Ebisu Town)Station【Exit 3】
2.New World Heritage Site! Isn't it? Tsutenkaku Tower

"Tsutenkaku Tower" is the symbol of Osaka Minami.
If you do not mistake the exit, you can not get lost in a single trail.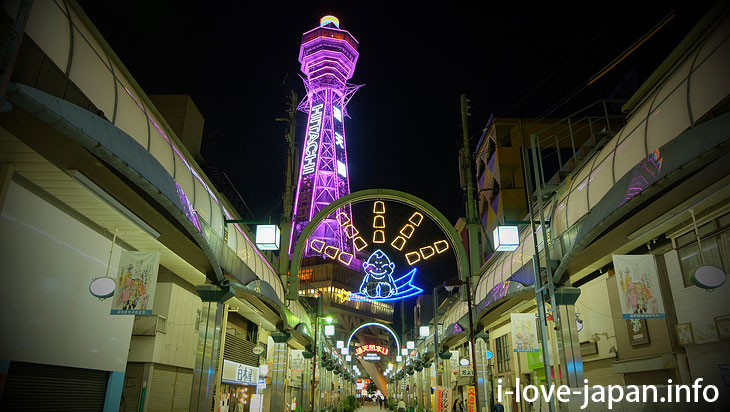 The guardian goddess of this area, popular 'Bily-ken' will welcome you( ̄▽+ ̄*)
▼Tsutenkaku Tower
http://www.tsutenkaku.co.jp/index.html
3.Twice Source prohibited! You must eat Kushikatsu in Shin-sekai
3-1.Shin-sekai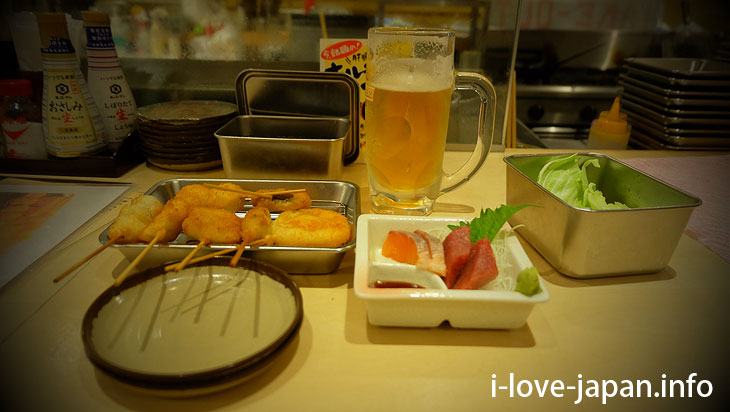 Kushikatsu is a Japanese dishes made by sticking meat and vegetables into a skewer and fried with flour, breadcrumbs(and etc) .
There are shops that prepare a set price for tourists.
There are many shops that have menus outside, so let's carefully consider them.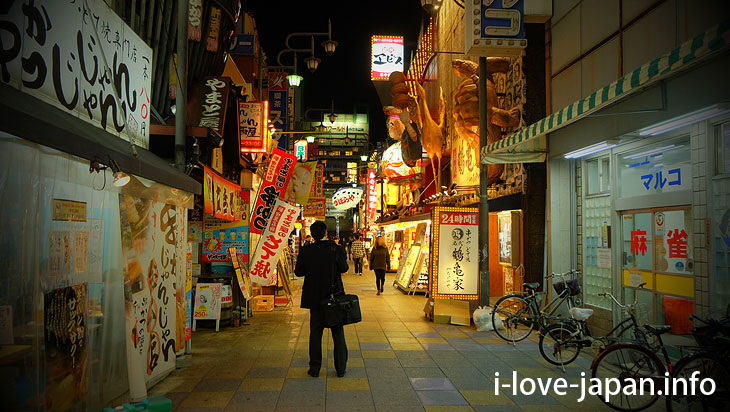 Shin-sekai is one of Japan's most crazy towns, too.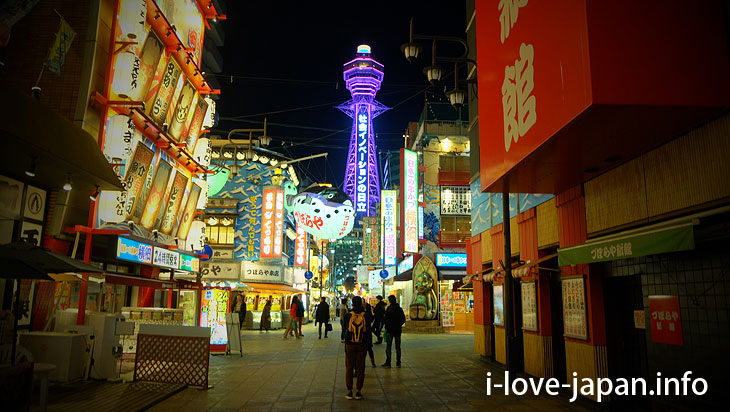 It was like a theme park condensed "Omoroi(The best compliments in Kansai) of Osaka".
3-2.Jan Jan Side Street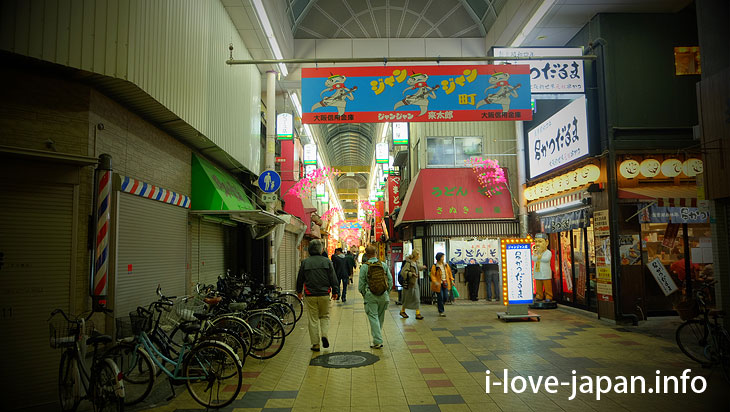 This shopping area also expresses a good old Nippon.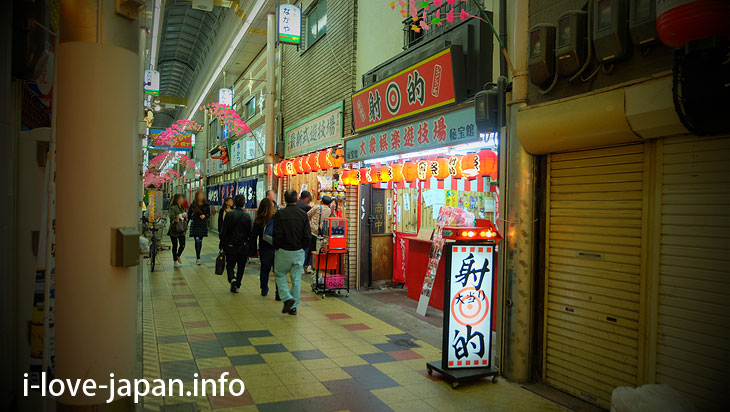 There is shooting and you can play
walk
↓
【Goal】Tennoji Station
It is a course of less than 2 hours ,Walking around Osaka Minami's night's recommended spot, Dotonbori → Tsutenkaku → Shinsekai.
Please arrange it according to your destination and preference as you like.
I'm happy to serve you(* ̄∇ ̄*)
4.【Map】Osaka night attractions