"Fushimi-Inari Taisha" may be the most famous shrine in Japan for foreigners.
Leaving Narita Airport before noon, I worshiped Fushimi Inari Taisha via Kansai Airport.

1.Fushimi inari Taisha Map
It is a guide map of Fushimi-Inari Taisha Shrine.
I expanded the English on the map.
Together with the official website below, it should be perfect.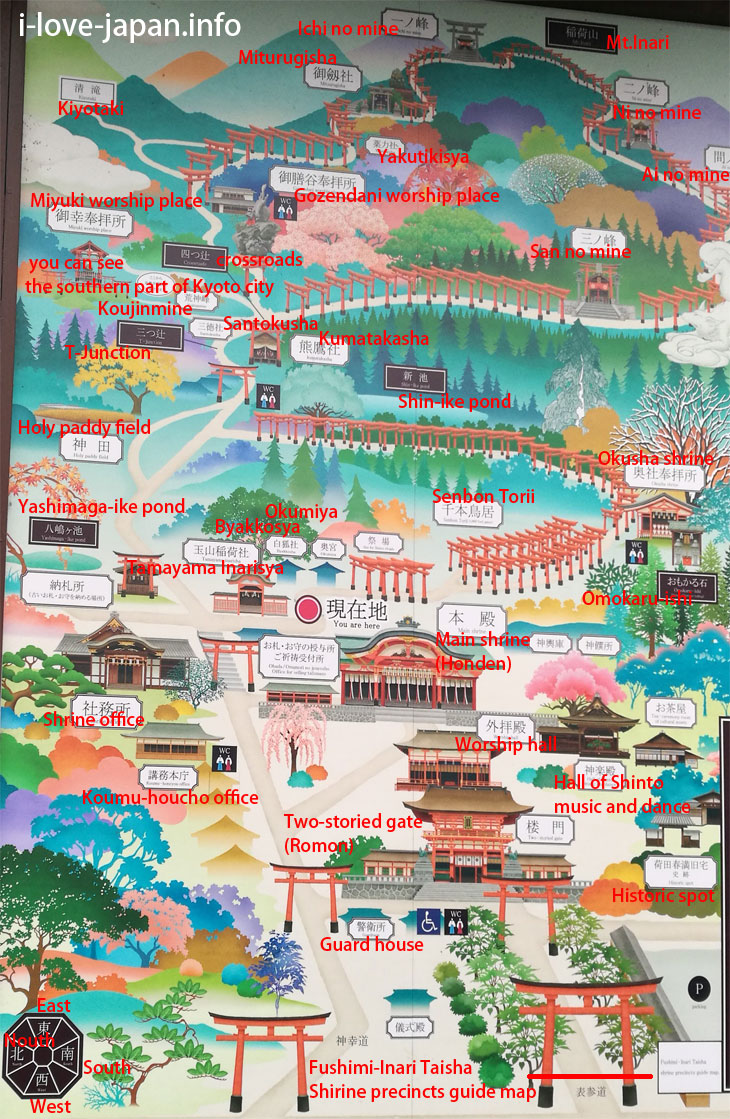 ▼Map|Fushimi Inari Taisha
http://inari.jp/en/map/
2.Course I worshiped in about 2 hours
Arrived at JR Inari station after 16 o'clock and worshiped for over 2 hours with a quick pace.
2-1.Road approaching a shrine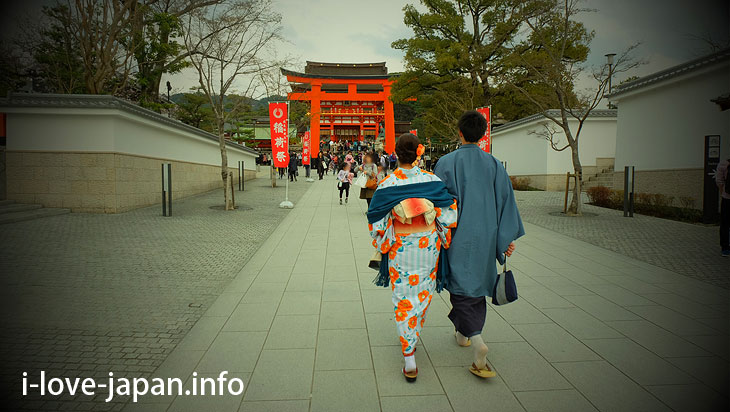 Arrive in Inari station and walk on Road approaching a shrine(Omotesando).
"Wearing kimono, visiting Fushimi-Inari Taisha Shrine" seems to be in fashion, there were a lot of people wearing kimonos.
▼Search results for "rental kimono kyoto" on Google
https://www.google.co.jp/search?q=rental+kimono+kyoto&ie=utf-8&oe=utf-8&client=firefox-b&gfe_rd=cr&ei=ci8IWbm_Jq798AfquLHoDw
2-2.Two-storied gate(Roumon)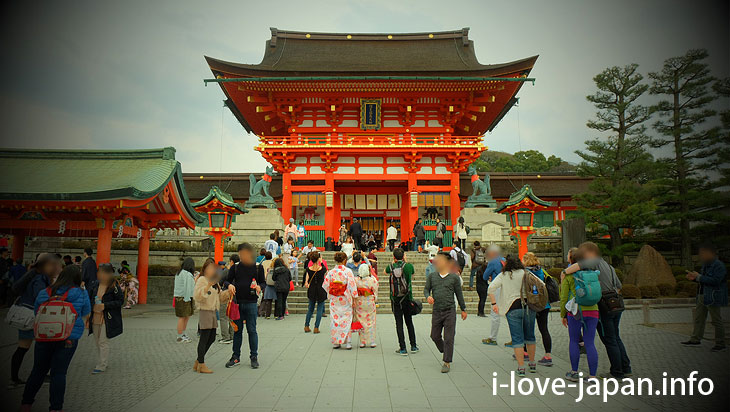 People from various countries are attending worship.
2-3.Main Hall(Honden)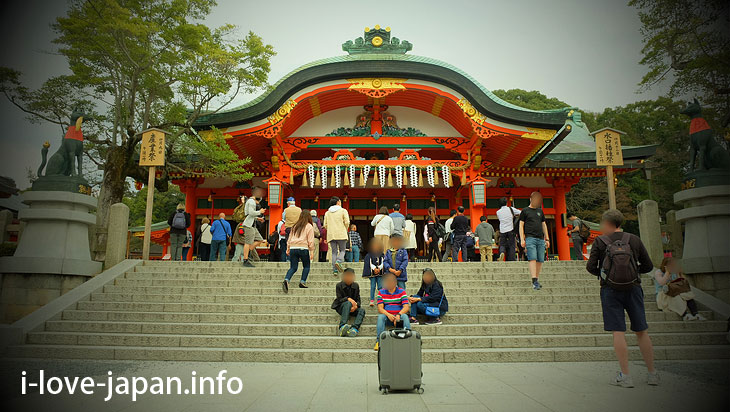 Let's challenge the Japanese style ceremony at the main shrine.
A basic manner of prayer is 'Twice bowing, twice clapping and one-time bowing.'
2-4.Senbon Torii(Thousand Torii)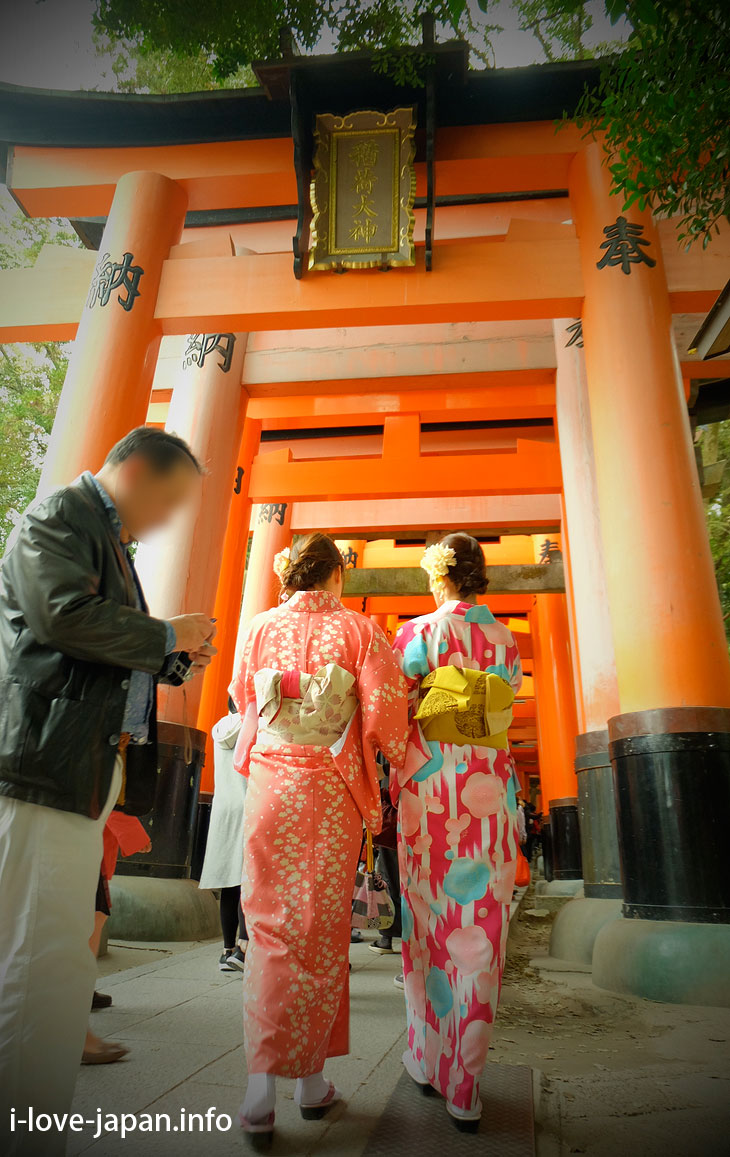 I went around the main hall and walk in the Senbon Torii(Thousand Torii).
These torii were dedicated with wishes.
Or these torii were dedicated to the mark of appreciation of wish.
Let's visit worshiping while thinking "gratitude feeling" that was put in a big torii.
▼Senbon Torii|Fushimi Inari Taisha
http://inari.jp/en/map/spot_07/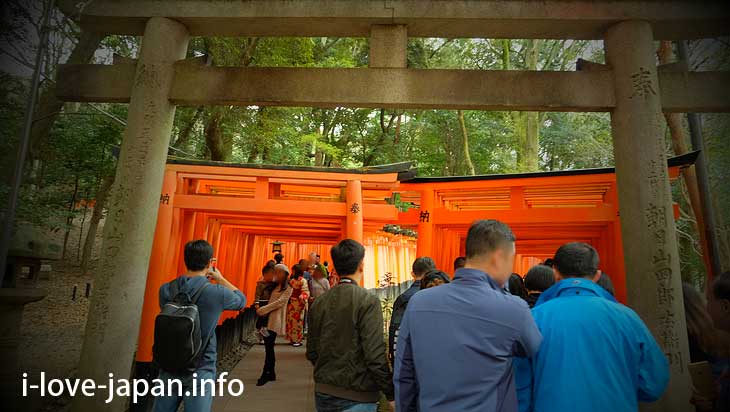 Torii is divided into two from the middle.
Proceed the right side and visit "Okusha main shrine".
Let's listen to God with "Omokaru-stone" as to whether the wish will come true.
When coming back from the left side, it will be a course of over an hour
▼Okusha Hohaisho|Fushimi Inari Taisha
http://inari.jp/en/map/spot_08/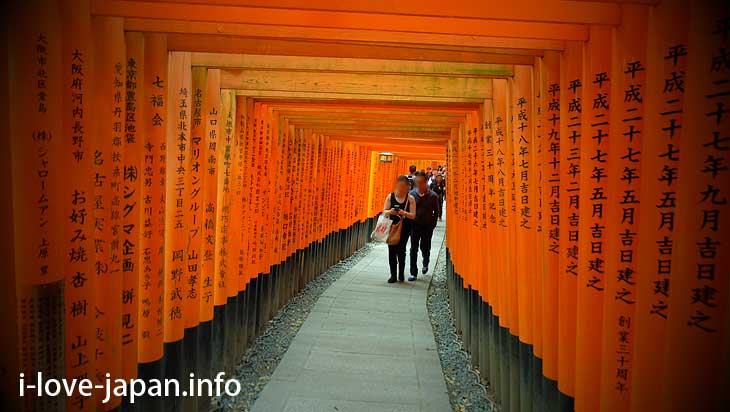 Not only in Kansai, Torii is dedicated from Saitama, Yamaguchi and Japan all over the country.
2-5.Not only the torii! Items that can be donated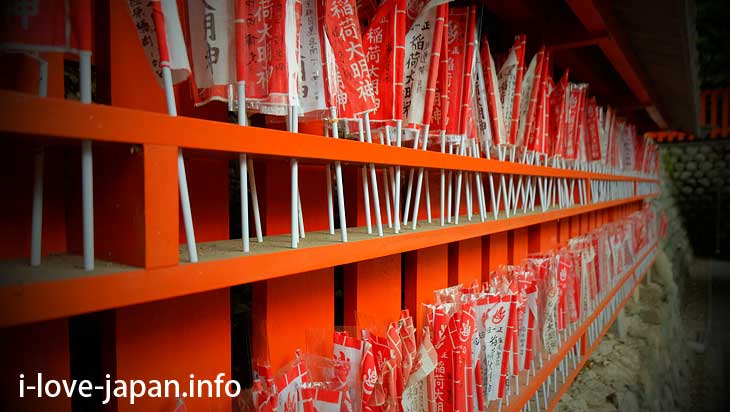 Small Nobori(a kind of flag…)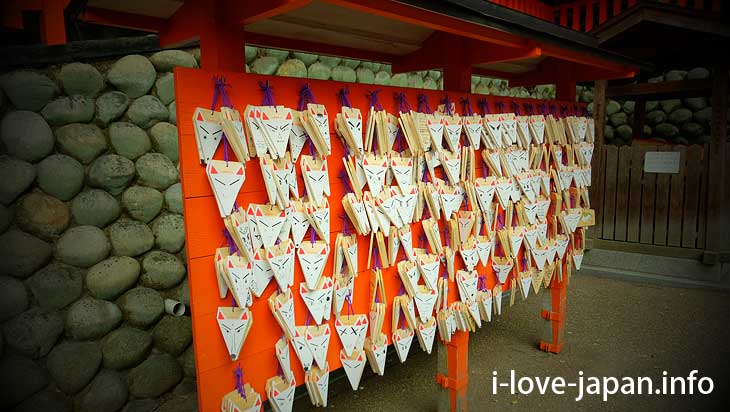 votive picture(eme) of fox…
2-6.T-junction/Kumatakasha/Crossroad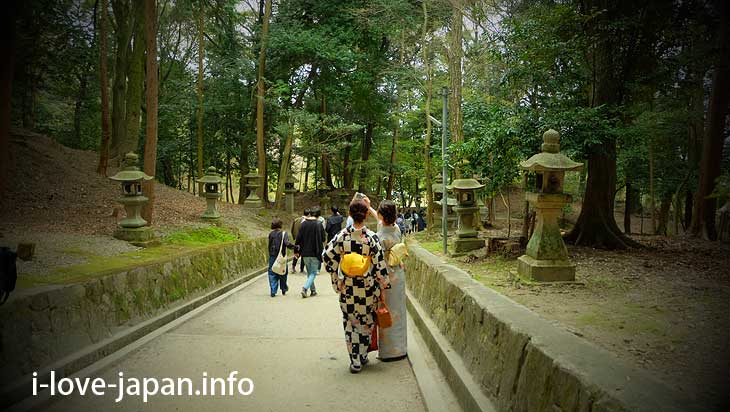 T-junction,Kumakatasha which is a little walk from here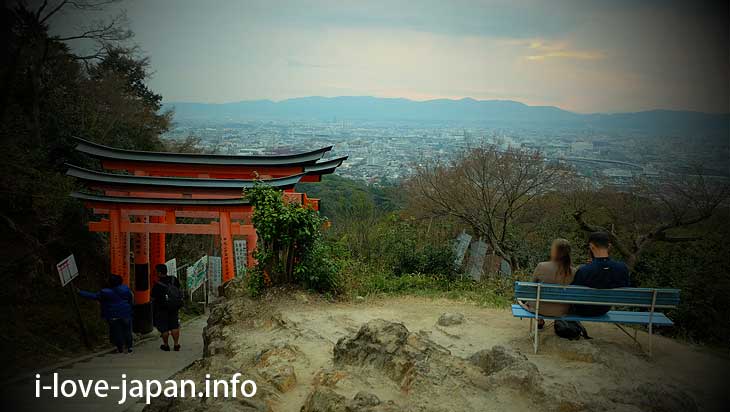 From near Yotsutsuji(Crossroad), you can look over the southern part of Kyoto City.
Returning from this point, it will take about 90 minutes.
▼Kumatakasha|Fushimi Inari Taisha
http://inari.jp/en/map/spot_09/
2-7.There are many "Otuka" beside the approach path
People who worshiped Inari Okami under different names engraved these names onto stones and left them as offerings to the holy mountain. These stones are called otsuka.
It is each faith by each person.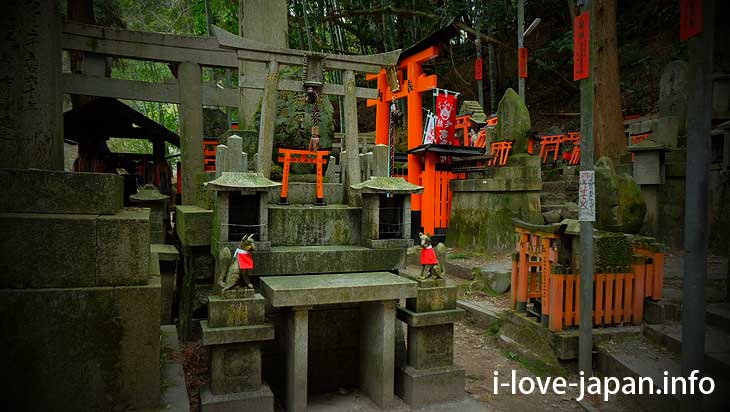 Numerous stone monuments and torii are mossing.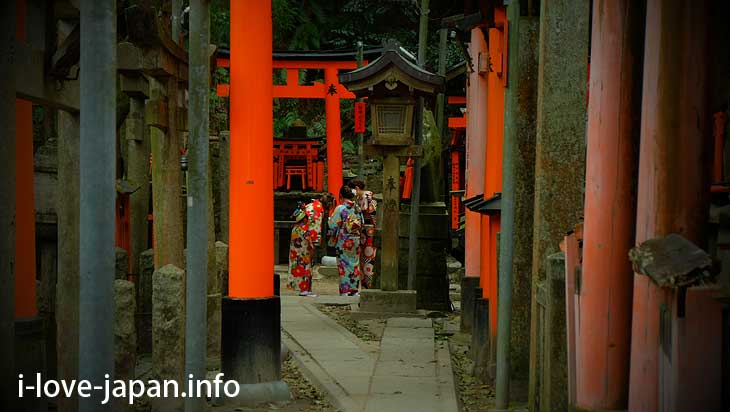 "KIMONO GIRLS" are talking about something.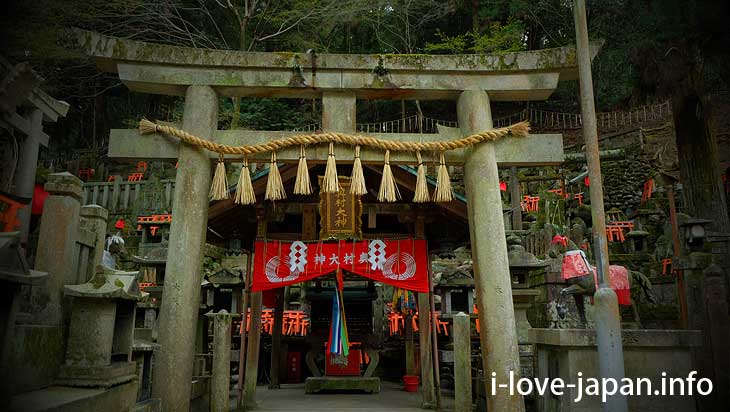 There is "Otuka" that horses are protecting,not Guardian dogs, not foxes.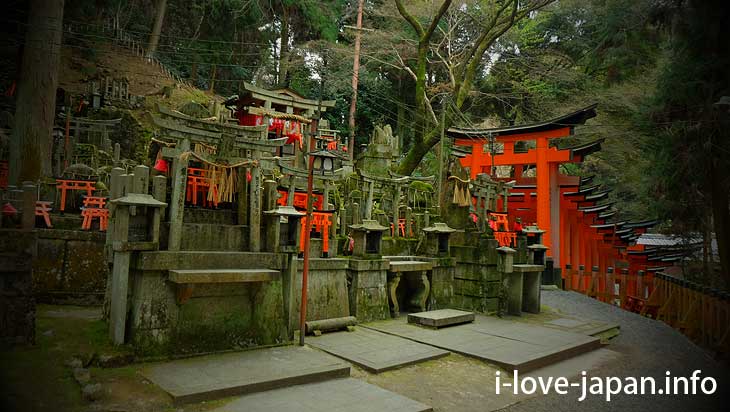 Areas with many stone torii.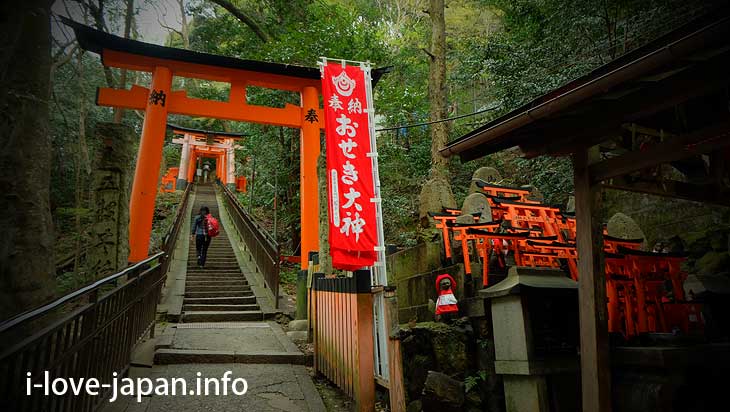 Although I came to pray to deity, I am climbing up or hiking…
I decided to think.
I am glad because I can meet many deities as I walked!
2-8.Arrived at Ichinomiya (the top of Inari mountain)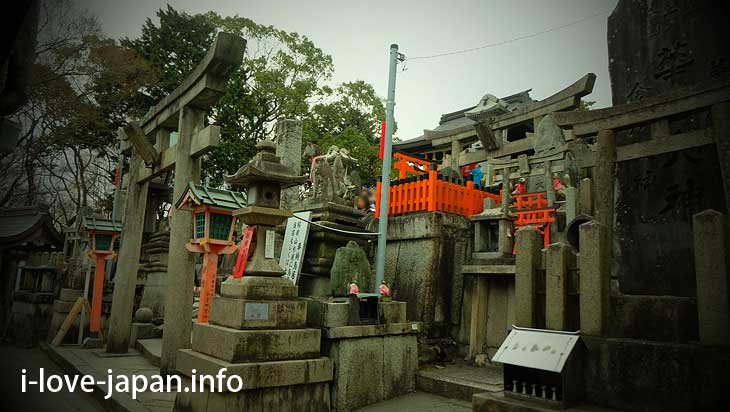 I managed to reach the top of Inari mountain (233 m).
There are lots of "Otuka" around this.
▼Ichinomine (Kamisha Sinseki)
http://inari.jp/en/map/spot_10/
It is good to go round the "Mitsurugisha (Chojasha Shinseki)" and descend.
But I found a sign of "It's 10 minutes earlier if you go this way."
This way is the way I climbed up.
I chose shortcuts with a sense of accomplishment and fatigue that climbed Mount Inari's top.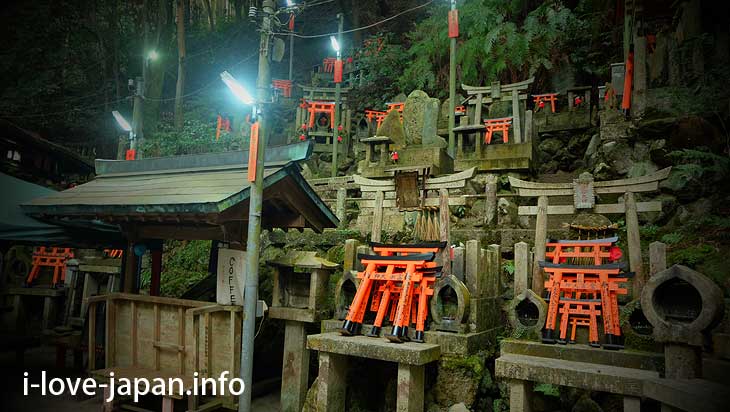 The lights are on along the approaching path.
2-9.Sunset at Fushimi-Inari Taisha Shrine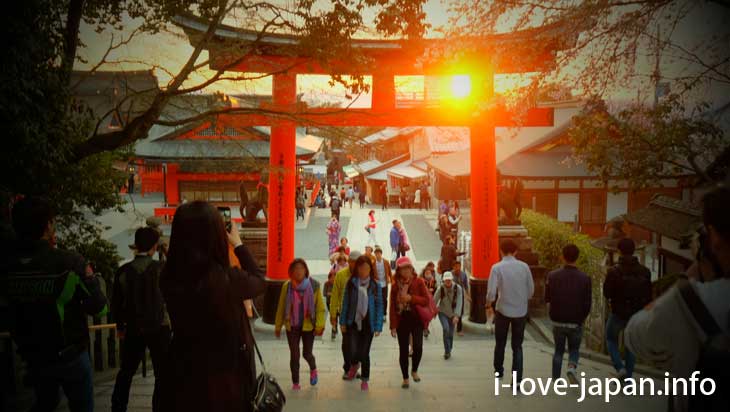 Torii next to the main hall and cherry blossoms and sunsets.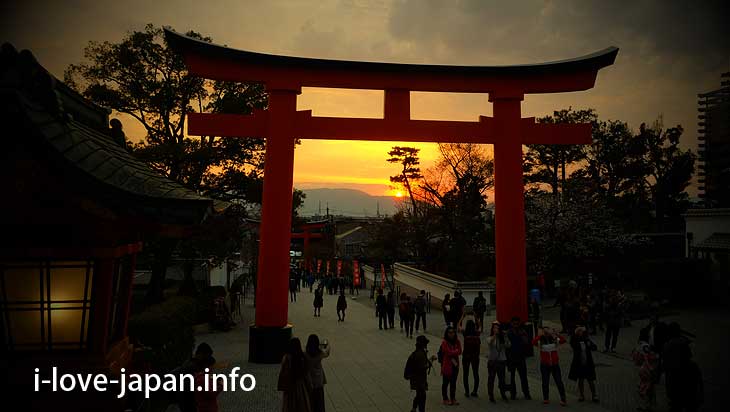 From the tower gate, a torii, sunset and Omotesando.
About two hours, I was able to visit Fushimi-Inari Taisha Shrine like this.
Fushimi-Inari Taisha Shrine is not a "tourist resort" but a "place of prayer for ordinary people".
keep that in mind and let's visit.
3.Access to Fushimi-Inari Taisha Shrine
Access | Fushimi Inari Taisha