From Tokachigawa Onsen, I returned to Obihiro Station Bus Terminal at【10: 30】.
The bus to go to Shikaribetu Kotan departs 【14: 00】 from Obihiro Station Bus Terminal.
In that three and a half hour, I took a tour of Obihiro station and around Obihiro station.

【11: 00】Rokkatei Obihiro head office. Get a limited selling sweets
I went to Holy Land "Rokkatei Obihiro head office".
It is a Holy Land for the sweet lovers.
There are many "Rokkatei" in Hokkaido.
But there are limited sweets that can only be eaten at several shops.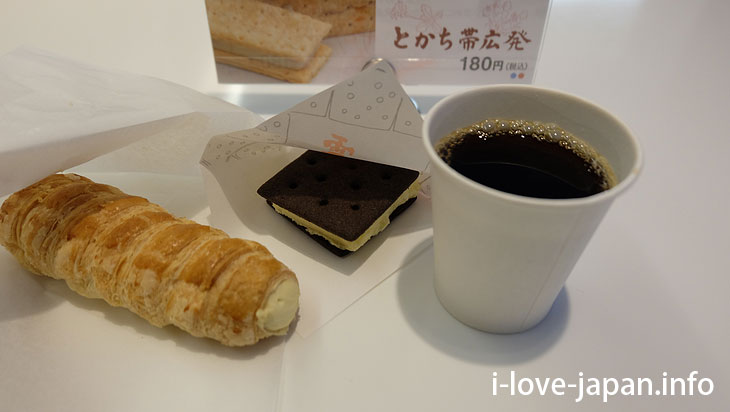 From the left
"Sakusaku pie(Pie with cream)" with an expiration date of 3 hours
"Yuki-kon cheese(Sandwich of cocoa biscuit with cheese cake)"
free coffee
"Saku Saki Pie" is a dish containing cream in a corn-shaped pie.
As the name suggests, the pie is crisp(sakusaku)( ̄¬ ̄) .
"Yuki-kon cheese(Sandwich of cocoa biscuit with cheese cake)"
A sour cheesecake is sandwiched on a bitter cocoa biscuit.
It's 2 hours that you can eat deliciously…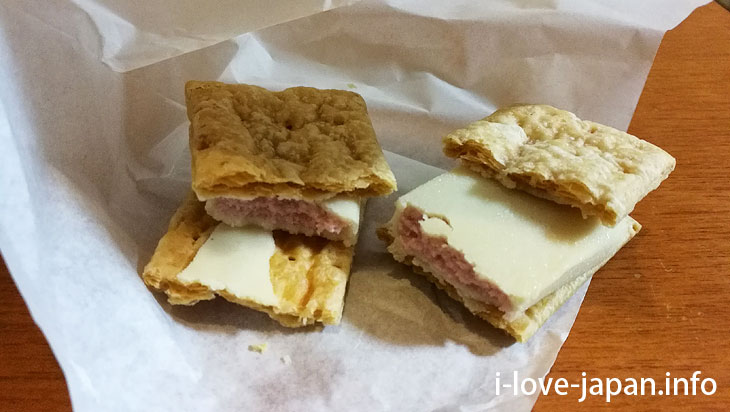 In addition, there is also "Tokachi Obihiro Hatu(departure)" as a limited sale item.
Raspberry cream (?) wrapped in white chocolate is in the pie cloth.
Each complemented the goodness of each.
I recommend eating sweets with short shelf life in eat-in space inside the store.
And let's make a souvenir for long sweets period sweets as 'Tokachi Sweet'.
▼Rokkatei Offcial site
http://www.rokkatei.co.jp/language/
↓
Walk to Obihiro shrine (18 min / 1.4 km: by Google)
↓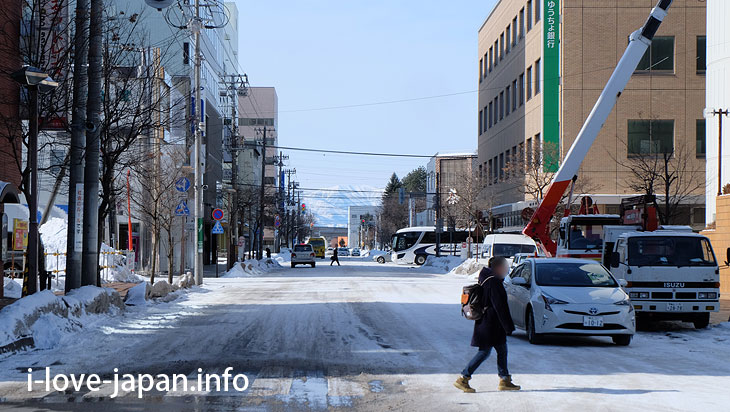 You can see the mountains of Tokachi behind the road.
↓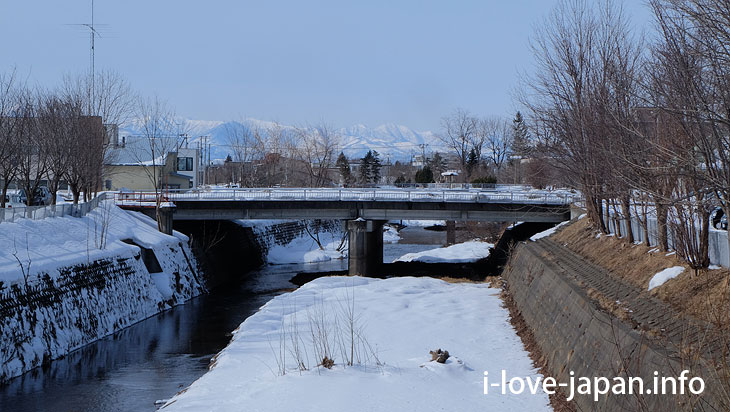 Obihiro river and the mountains.
↓
I found some swans near Obihiro Shrine.
【11: 40】Swans in Obihiro river(near Obihiro Shrine)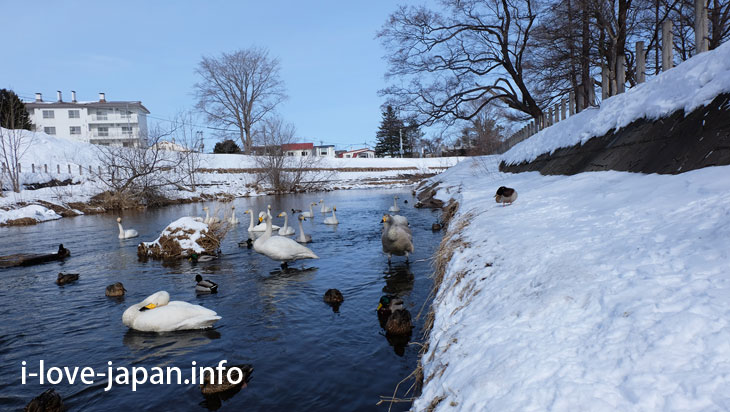 It is strange that there are swans in an ordinary residential area.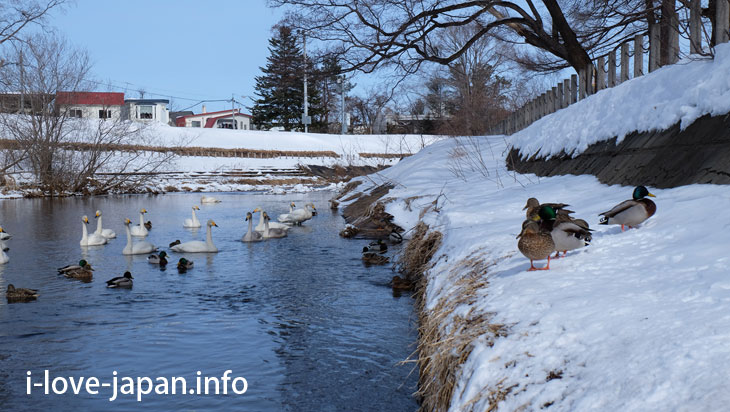 I do not know if swans are coming in the Obihiro river near Obihiro Shrine every year.
Hokkaido's greatness is that there is "nature" in everyday life.
↓
【11: 55】Obihiro Shrine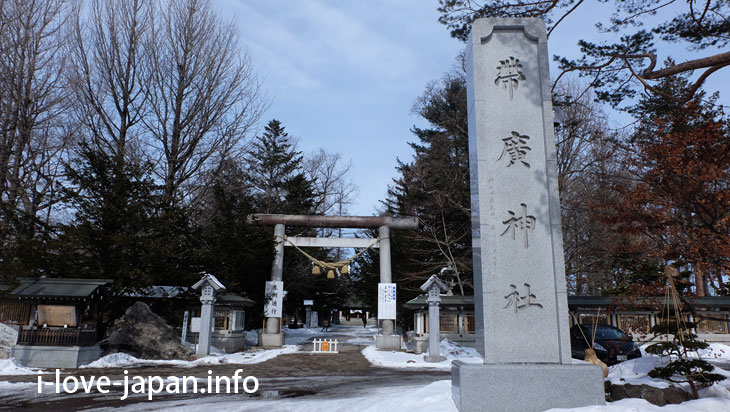 It was interesting, such as an amulet or an ema with the form of a horse
▼Obihiro Shrine Official site
http://www.obihirojinja.jp/
↓
walk
↓
【12: 50】The second most delicious in Obihiro!?Pork Bowl of Fujimori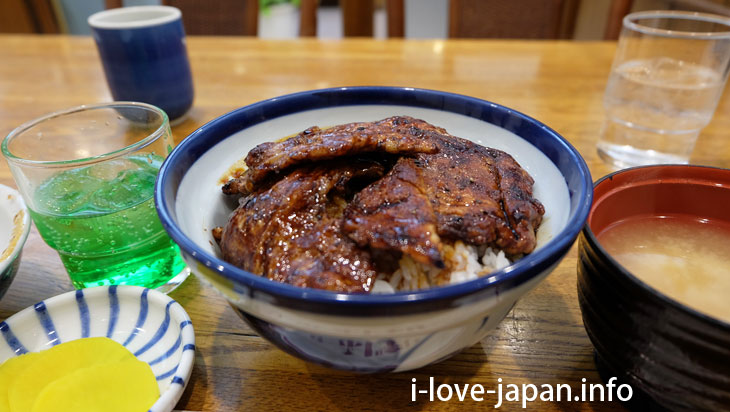 Come back to Obihiro station and have lunch.
Fujimori who feels like a "mass eatery", I got the Obihiro specialty "Pork Bowl(Buta-don)".
I was delighted the melon soda that came with the serviceヽ( ̄▼ ̄*)ノ
▼Banquet・meal Fujimori
http://www.fujimori-kk.co.jp/fujimori/
↓
【14: 00】Obihiro Station Bus Terminal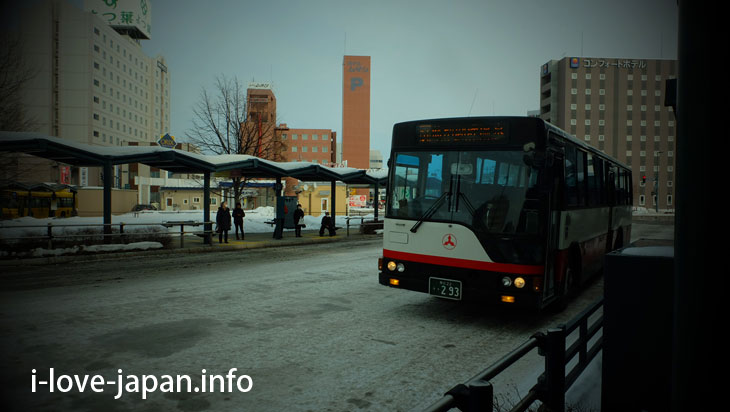 Bus bound for Lake Shikaribetu has arrived.
It was only "three and a half hours", but I could walk around a lot.
I'm happy if I can help you.
See also about Obihiro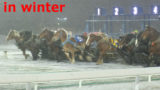 Things to do & to see in Obihiro in winter【7H】Hokkaido
From Haneda Airport, I took JAL and left for Obihiro Airport. And I used public transport to visit Obihiro half a day f...
▼Share Japan in 15sec on YouTube